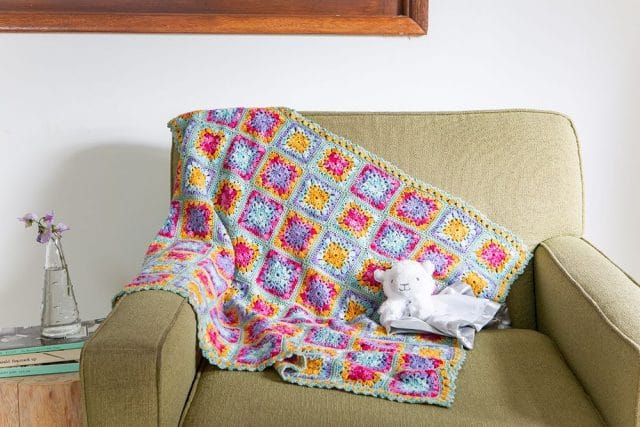 There are many different weights of yarn, ranging from very fine weight (crochet thread or lace weight), on up to super bulky. In honor of this month's yarn of the month, Stroll, which is a versatile fingering weight yarn, we are featuring some great patterns you can crochet in fingering weight yarn.
Sometimes crocheted garments get a bad rap, especially when they are made in certain weights of yarn. We've heard people say crocheted sweaters look chunky or unattractive, depending on the yarn, the stitch, the design, etc. However, just because crochet has a reputation for resulting in less-than-desirable garments, doesn't mean that it's true!
The yarn you choose does make a difference when it comes to crocheted garments — yarn can affect the drape (or stiffness), the weight (as in the literal heaviness of the garment), and the final look of the garment.
To combat a lot of the stereotypical problems with crocheting garments, look for patterns that are designed for lighter weight yarns! Fingering weight yarn is a great place to start to help you create lighter, more drape-y sweaters. Which brings us to:
Monthly Yarn Sale: Stroll 20% Off
This month, all Stroll yarns are 20% off.
Stroll is made of 75% fine superwash Merino wool and 25% nylon for strength and durability. Warm, cushy, and versatile, this yarn is wonderful to have in your stash when crochet inspiration strikes. In addition, Stroll is ideal for gifts since the recipient does not need to worry about special care instructions. There are over 100 colors of Stroll, in seven distinct lines:
Crochet Sweaters – Trending on Ravelry
In our first crochet pattern collections, we made sure to include several excellent crochet sweater patterns. This choice turned out to be the right one, as all our sweater patterns trended on Ravelry for days after we released them. [end horn tooting!]
And guess what — some of these sweater patterns are good choices for crocheting with fingering weight yarn, like Stroll! And don't forget, you can crochet just about anything in fingering weight yarn.
Crochet Patterns to Make in Fingering Weight Yarn:
Effortless Oversized Top
First we have the Effortless Oversized Top, a modern crochet sweater design by Tiam Safari. With a super-relaxed, oversized fit, this slouchy top is perfect for throwing on for any casual occasion – pair it with jeans and sneakers for a weekend chic look, or snuggle in leggings and cozy socks for a night on the sofa.
The simple shaping and construction of this design allow for an easy project for a beginner crochet garment maker.
Light Touch Pullover
Next we have the Light Touch Pullover, a design by Natasha Robarge. This lightweight pullover exudes softness and feminine charm, featuring a subtle lace pattern composed of petal clusters. Open neck, gentle pattern curves, relaxed fit, and cashmere content of the yarn, all create a luxurious garment.
Fingering weight yarn is great for all types of crochet projects, though, not just sweaters!
Snow Mountain Hat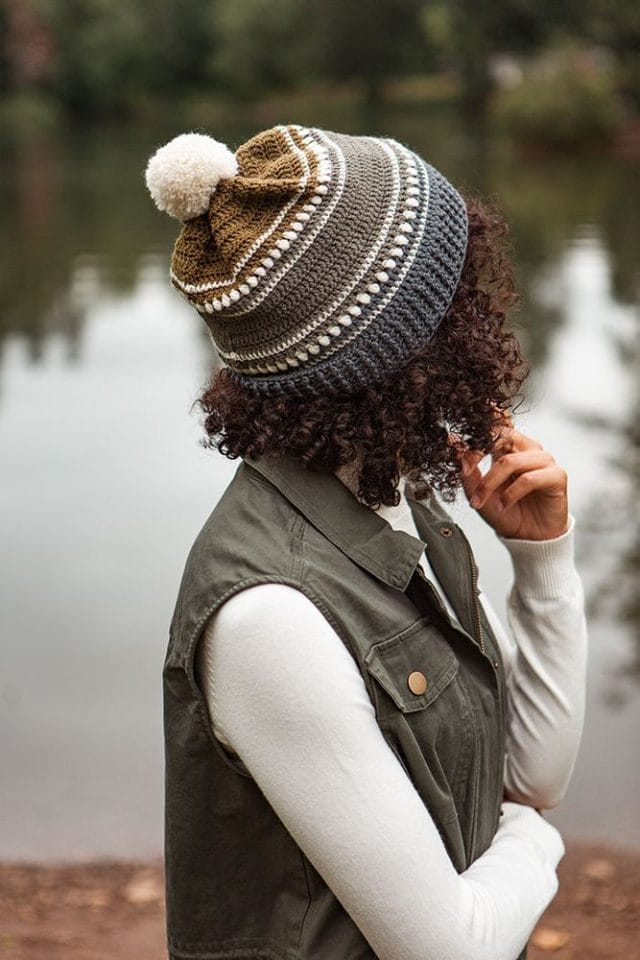 The Snow Mountain Hat by Michele DuNaier is our next fingering weight yarn crochet pattern suggestion. Whether you're spending a day on the ski slopes or need a cheerful accessory to wear on your daily commute, coordinated colors combined with a variety of stitches and texture make this hat a perfect choice.
Wildflowers Baby Blanket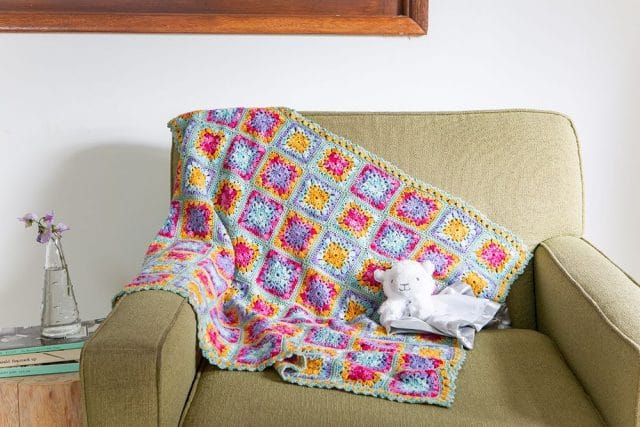 The Wildflowers Baby Blanket by Michele DuNaier is made with the beautiful colors and exquisite softness of Stroll Tonal yarn. Colorful flower motifs with a cheerful dance of golden shells along the edging make this a one-of-a-kind blanket for a special someone.
Louisa Crochet Shawl
Looking for a pretty shawl to make? The Louisa Crochet Shawl by Sara Hartmann is a pretty option! You'll enjoy crocheting this rhythmic pattern with its interesting shaping details that blend double crochet with fancy corner shells, ending with a gorgeous border of fancy picots and shells.
Neasa Shawl
The Neassa Shawl by Brenda Bourg is another great-looking crochet shawl pattern designed for fingering weight yarn. Easily worked from side to side with the trim added after the main body is finished, Neassa is the perfect addition to any wardrobe!
Edith Wrap
The Edith Wrap by Elly Doyle hugs the shoulders for cozy, stylish comfort. Work in a bright color and pair with a Little Black Dress for a pop of eye-catching elegance.
Forest of Dean Shawl
The Forest of Dean Shawl by Michele DuNaier is inspired by the ancient woodland of the Forest of Dean in Gloucestershire, England. Rows of DC stitches represent a deep forest of trees, lacy shells and V stitches evoke leafy treetops and shrubberies, and the chain space line suggests a river running through the forest.
These are just a fraction of the great crochet patterns for fingering weight yarn we have available. Check out crochet.com for dozens more, like our plaid Ancel Wrap!