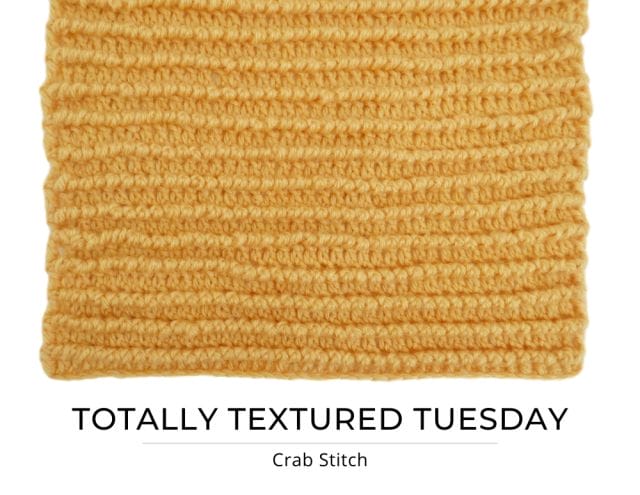 This week we are learning to crochet the Crab Stitch. This is the final stitch in our Totally Textured Tuesday series, where you've learned a new crochet stitch every week!
BQUEEN COLLECTION #TOTALLYTEXTUREDTUESDAY
Hi again! Makenzie from BQueen Collection sharing another Totally Textured Tuesday stitch for our 12 week series of fantastic stitches that are great for texture. It's our last week and I have a good one to finish this out! Here's what we've learned so far:
Week 1: Single Crochet Back Loop Only (sc BLO)
Week 2: Blanket Stitch
Week 3: Even Moss Stitch
Week 4: Mini Basket Weave
Week 5: Bar Stitch
Week 6: Even Berry Stitch
Week 7: HDC FL + BL
Week 8: DC Cluster
Week 9: Mini Bean Stitch
Week 10: Alpine Stitch
Week 11: Wave Stitch
WEEK 12: Crochet CRAB STITCH
The crab stitch is the most difficult stitch of the series, I'd say. If you've made it this far, this one is for you. I want to challenge you because that is experience and growth. The crab stitch is most commonly used as a decorative edging, and gives your crochet edges a finished look.
The crab stitch is a little tedious and backwards – no, I mean literally it's worked backwards. Let's take a look!
We want to see it! If you try any of the stitches with us during the series, tag us @WeCrochetOfficial and @BQueenCollection AND use #totallytexturedtuesday so we can share!
MATERIALS
Any yarn or hook will do, but here is what I am using:
ABBREVIATIONS
ch: chain
rep: repeat
st(s): stitch(es)
RS: right side
WS: wrong side
sc: single crochet
dc: double crochet
flo: front loop only
blo: back loop only
yo: yarn over
rsc flo: reverse single crochet front loop only; working in the opposite direction as normal, swing your hook counterclockwise and up into the last single crochet just worked in the flo, yo, draw a loop through, yo and draw through 2 loops
CSDC: chainless starting double crochet (this substitutes a chain three turning chain for the beginning of every row, which if you're not familiar with – check it out HERE.)
INSTRUCTIONS
Multiple: Any
Row 1 (RS): Chain to desired length, dc in 4th ch from hook and each ch across, ch1. Do not turn.
Row 2 (RS): Rsc flo across row. Do not turn.
Row 3: CSDC, dc blo in each st across, ch1. Do not turn.
Repeat Rows 2- 3 until desired measurement.
We've wrapped up our last stitch for the 12 week Totally Textured Tuesday series. Thank you for joining me and I wish you the happiest of crocheting!
Hi! I'm Makenzie from BQueen Collection and my husband I make custom wood crochet hooks while I also dabble in pattern design. We live in eastern Colorado, enjoy fishing and the outdoors, and have three young boys who keep us very busy (plus eight chickens because we eat soooo many eggs). We'd love to connect – follow us on Instagram @bqueencollection and see what we're up to!