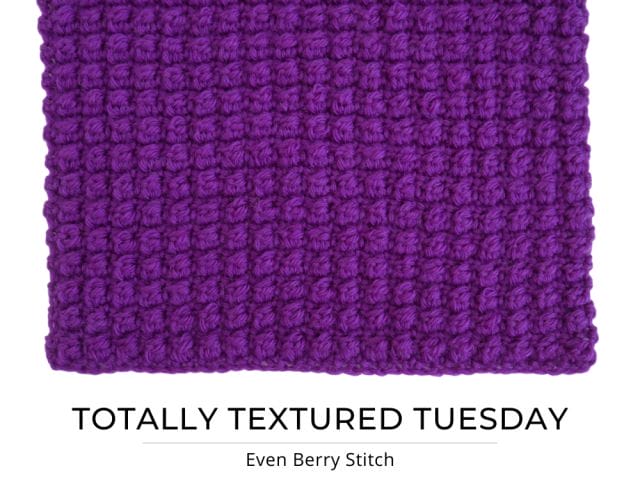 This week we are learning to crochet the Even Berry Stitch. Join us for our Totally Textured Tuesday series, where you'll learn a new crochet stitch every week!
BQUEEN COLLECTION #TOTALLYTEXTUREDTUESDAY
Hi again! Makenzie from BQueen Collection sharing another Totally Textured Tuesday stitch for our 12 week series of stitches I think you'll love and ought to try.
Week 1: Single Crochet Back Loop Only (sc BLO)
Week 2: Blanket Stitch
Week 3: Even Moss Stitch
Week 4: Mini Basket Weave
Week 5: Bar Stitch
WEEK 6: Crochet Even Berry Stitch
Yes, it will make you crave berries and no, you cannot eat the yarn (even though this color "Columbine" is Y.U.M.M.Y.). Remember back in Week 3 when we talked about the Even Moss Stitch? This is the same deal with the Even Berry Stitch, where the "berries" are stacked directly upon one another for nice organized columns and rows. These are so similar to a bobble, but not quite as firm which makes them – I think – even more cozy.
We want to see it! If you try any of the stitches with us during the series, tag us @WeCrochetOfficial and @BQueenCollection AND use #totallytexturedtuesday so we can share!
MATERIALS
Any yarn or hook will do, but here is what I am using:
ABBREVIATIONS
ch: chain
sc: single crochet
rep: repeat
RS: right side
WS: wrong side
yo: yarn over
berry stitch: yo, insert hook, yo, pull through, yo, pull through one loop on the hook, yo, insert hook, yo, pull through, yo, pull through all five loops left on the hook
INSTRUCTIONS
Multiple: 2
Row 1 (RS): Ch in multiple of 2 to desired length, sc in 2nd ch from hook and each ch across, ch1, turn.
Row 2 (WS): Sc in first st, *berry stitch in next st, sc in next st; repeat from * across, ch1, turn.
Row 3: Sc across.
Repeat Rows 2 and 3 until desired measurement.
That's it! E-Z-P-Z and frankly a serious trigger for some fruit, I'd say. We'll see you next week!
Hi! I'm Makenzie from BQueen Collection and my husband I make custom wood crochet hooks while I also dabble in pattern design. We live in eastern Colorado, enjoy fishing and the outdoors, and have three young boys who keep us very busy (plus eight chickens because we eat soooo many eggs). We'd love to connect – follow us on Instagram @bqueencollection and see what we're up to!