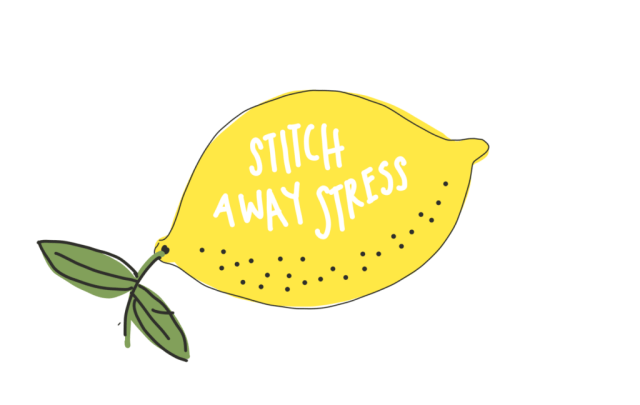 Has the crochet community heard? WeCrochet is partnering with the Craft Yarn Council for the month of April to help us all #StitchAwayStress! This year, the CYC is focusing on how we can all foster creativity at home during these weird times. This week, we're focusing specifically on how comparison can kill your creativity. Here at WeCrochet, we're all about community over comparison, so that is a message we can get behind!
Comparison Kills Creativity
We are all on our own crochet journey. It sounds cliche, but it's true. That rockstar crocheter you're tempted to compare yourself to? You don't know how long they've been working on something, how much help or coaching they've received, how much time they have available to work on their craft, or how their brain works. You're different crafters. You're on different journeys. We're in this to have fun and support one another. Forget about comparison as soon as you pick up your yarn. This time is for YOU. (We know, this is easier said than done!)
Community Inspires Learning
If you're wanting to see what other stitchers are up to, look to them for inspiration over comparison. The crochet community is filled with some pretty awesome people. If you're admiring someone else's work, ask them: How long did that take? How did you learn? Do you have any tips for me? You'll find most crocheters are there to lift everyone else up. Don't tear yourself down, start a conversation so you can feel that support from your crafty community. Use other's work to inspire you as much as you can!
Celebrate the Wins, Share in the Challenges
I'm on week 5 of working from home with my partner in the next room. Every week he has a meeting with his team where they're encouraged to celebrate each other's wins and share in each other's challenges. I'm pretty lucky to have found a crochet community here that celebrates my wins (nothing better than showing a new finished project) and share in my challenges (listen to the WeCrochet team share some of our crochet challenges). Don't let comparison steal away your crochet joy. Find community that encourages you instead!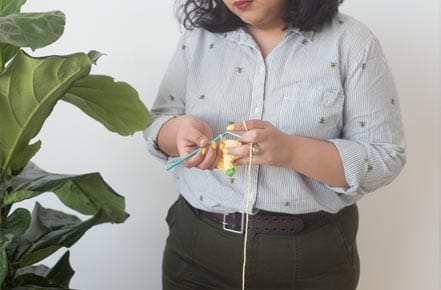 Tips From People We Love
We're pretty lucky to work with some thoughtful and talented crocheters. Here are some of their top tips for finding community over comparison:
"My best tip for connecting with community through crafting is to keep "community over competition" front of mind. I have seen so much tears, heartache and sadness from people within the community being hateful to one-another saying this person's design is too close to theirs, blasting them publicly on social, they copied me, don't follow this copycat… things like that. It's awful and can tear apart this community faster than anything else! It breaks my heart. There's really no need at all to be in competition with one another. Each maker/designer is 100% unique. The way you write patterns is unique, the way you explain stitches is unique they colors you're drawn to is unique! A rising tide rises all boats…. community over competition is the only way to be." Ashley from A Crafty Concept
"Connecting with community: Spend some of your extra time reconnecting with makers and accounts that you love. Comment on their photos, share them in your stories, and mention them in your posts. You may help others find new accounts to follow." Toni Lipsey from TL Yarn Crafts
"Being able to teach your peers or others within your community how to crochet is a wonderful way to connect and grow the fiber community as well. Being able share this gift of meditation and ability to make something out of yarn for yourself or someone else is a gift that will continually always grow and be the gift that keeps on giving." Jessica from The Hook Nook
"Since crochet is a solo activity, it's so much more fun when you find others working on similar projects! Whenever I start something new, I always check Instagram hashtags for the yarn I used, the pattern name, the yarn company, and almost always find other people's projects that are similar to mine. This is an easy way to find other people who are working on the same type of project you are, and in addition to making new connections, it helps to find new ideas for yarn you already have in your stash! "
Janine from KnitsNKnots
"I have met many great friends both online and in person. I also have the pleasure of reaching people every day with my designs. This is all made possible because of crochet. Crochet has given me the opportunity to connect with people that I probably never would have known otherwise and I think that is truly special. I enjoy sharing my craft with others and having them share their creations with me! " Ashley from TheStitchinMommy
Join the Conversation
Do you have any tips for avoiding comparison while crafting? How are you working to #StitchAwayStress? Follow along with WeCrochet and the Craft Yarn Council and join the conversation! Weigh in on creativity and stress with this survey!