Wearing a mask is a new experience to many Americans, but I'm on a mission to help the people in my life get comfortable with wearing a mask. I'm aiming to share all about making crochet Ear Savers, which are little rectangle-shaped pieces of crochet with buttons at each end that help make mask-wearing a much more comfortable experience.
Crafting at this time in History
I keep thinking about the future and what it will look like when we all examine this time period with hindsight. History is being written with every action and inaction we take. I want to be able to say to my progeny and the youth that I did something while sheltering in place. That I did my best. We all did our best. I want to be able to say that in a time of fear, uncertainty, frustration, and sadness, that we acted with love and other people in mind. Crafters showed up for essential workers, family, friends and community by doing what they do best, patiently making and creating with skill, determination and love in their hearts.
I only learned to sew with a sewing machine in April of this year so my mask production is a different story for a different blog. I am as some would say bi-stitual – I'm both a knitter and crocheter. Mostly I'm a crafter that creates.
Discovering Ear Savers
Back in March when wearing a mask in America became more normal and less a costume accessory for a cyper-punk MeetUp, I read, saw, and experienced the pain on my ears when wearing one. Then I saw a viral post from a nurse with a headband with buttons sewn on. She had looped the mask's elastic bands around the buttons instead of putting pressure on her ears. Brilliant. With what felt like no time at all, Ravelry seemed to be buzzing with headband patterns and ear saver patterns.
I had never really heard of an "ear saver" before but it is one of those beautiful things that tells you what it is without needing to know much else, like "doghouse" or "wheelchair". You know what it is but need to look at a picture to know exactly what someone is more specifically talking about. I didn't really need a pattern to make one. In its simplest forms, it's just a rectangle that goes across the back of one's head that has buttons sewn on both ends of the rectangle.
Over the years I had unexpectedly developed a large supply of buttons. A friend who had heard that I collected buttons gifted me with 5lbs worth of buttons. Fun fact though, I collect antique button pins, not garment buttons. Either way it was thoughtful and generous and I love my friends. I had yarn, buttons and crochet hooks, I was ready for production. Making ear savers felt like a project with little time and high reward so I got started.
Finding Ear Savers crochet patterns
I took to Ravelry for research and inspiration. I found a lot of different options but landed on Sarah Berens's Mask Mates Ear Savers. I quickly crocheted 5 of them, in Brava Worsted, to send with the five masks that I had ready to go for my brother and his family in Texas. I experimented with making longer ones (chaining between 24-30 instead of the suggested 13). My partner and I liked the longer ones better but some masks have longer elastic so the shorter ones work best for those masks. A lot of the fit just depends on the mask you're using. I played with color by holding two yarns together to create playful color effects.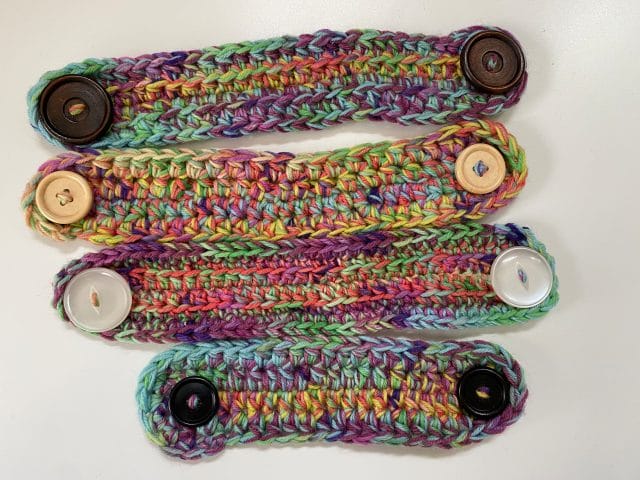 Making crochet Ear Savers my own
My next step was to try to make this ear saver project more interesting. Since Stay-At-Home orders have been in place in Oregon and Washington, I have been taking on small steps in crafting every day that I do for a short amount of time. I've been learning new stitches, getting better at finishings and edging, learning to crochet without looking, practicing colorwork and carrying yarn and so on. Having a regular practice of continued learning has helped me have some quiet space of staying present and calm.
In March I learned to Tunisian Crochet after watching TL Yarn Crafts' Tutorials. My favorite video was her 5 Simple Stitches for Tunisian Crochet Beginners. I wanted to practice the Diagonal Lattice Stitch so I began making rectangle ear savers with that stitch in mind. I used a discontinued Imagination yarn in Gingerbread House and another discontinued yarn colorway Stroll Fingering in Frog Price Hand Painted to create a funky colorful effect. I used different combinations of holding two fingering weight yarns double to see the effect of the colors changing. Fingering weight yarn or sock yarn, seems like a great choice of yarn because of its inherent resilience, comfort and flexibility.
How my crocheted Ear Savers were received
I can't make these ear savers fast enough. I was sending them to family members and friends all over. My neighbor was taking them to hospitals. My kid's preschool teacher even asked for some. I alternate between making a variation of Sarah Berens's Mask Mates Ear Savers and a Tunisian Diagonal Lattice Stitch one that I sort of made up. Everyone has been so grateful to receive one or several ear savers.
I hope my ear savers can bring people some comfort while wearing masks. Wearing a mask is a new experience to many Americans and I know that some people have resisted it because of various reasons but I don't think comfort should have to be one of those reasons. I don't want to speak for all crafters but I'm ready to help the people in my life get comfortable with wearing a mask. Wearing a mask is an important act that can not only save lives but help communities feel save to find joy outside of the home.