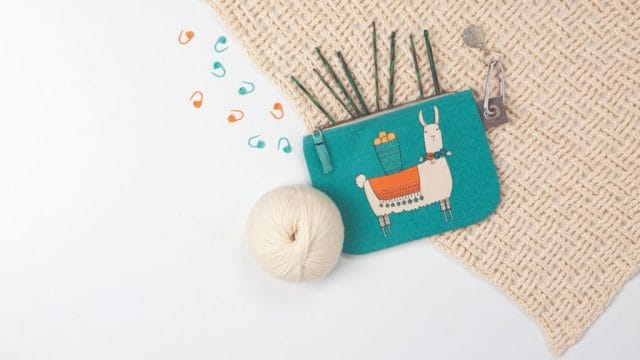 Time spent at home can be full of mixed emotions. On one hand, it's nice to find time to do your craft and on the other hand you might be finally faced with piles and stacks of all the projects and materials you've put off organizing. Well there's no time like the present, come spring clean with your friends at WeCrochet.
Heather's confession to losing her swift leads Sara and Heather discuss their favorite methods to organize their crochet supplies. Do you organize your yarn by color, by weight or by fiber? Project bags are a great way to stay organized and is only one of many on Sara's list of tips to stay organized.
Heather introduces Regan to Stitch Away Stress, an initiative that the Craft Yarn Council is launching for the month of April for Stress Awareness Month. Crochet has been linked to mood improvement, improvement in confidence and concentration, and general stress relief. Regan lets it slip that he has finished his second crocheted sweater (yay) and shares what he has learned and how that has impacted his sense of accomplishment. 
Producer Sarah and Heather check in on what they're working on. Producer Sarah has been learning Tunisian crochet while Heather has been finishing her WIPs or works in progress [projects]. Heather did recently finish her Felici on the Double Cowl (yay):
FYI: We're working on something special and would love to hear from you! Call and leave us a voicemail with stories about your moms, grandmas, or mother-figure crocheting. We're going to share these stories in an upcoming episode. Simply call 360-334-4847 and leave us a short message for Mothers' Day. You can also record a Voice Memo from your phone and send that audio file to podcast@wecrochet.com
We also have an update to all WeCrochet orders: https://www.crochet.com/important-updates
Mentioned in this episode:
Like us on Facebook
Yarn Swifts & Cases
Tote Bags & Project Bags
Crochet hook cases
Trays & Tins
Notebooks
Chart Keeper
Yarn Bowls
Stitch Away Stress in April
Take the Stitch Away Stress Survey
Cotton yarns
CotLin
Not Your Granny's Jammies Pattern by Heart Hook Home
Learn Tunisian Stitches
Radiant hooks
Toni's Tunisian Videos – The Absolute Beginner's Guide to Tunisian Crochet
5 Simple Stitches for Tunisian Crochet Beginners
Felici on the Double Cowl Pattern
#EpicAfghan
Timestamps:
0:00 Sara offers an update to the status of shipping
2:24 Heather and Producer Sarah discuss Heather's "Top Fan" status and introduce what is going to be covered in the episode
5:47 Sara and Heather give tips and tricks to organization
17:22 Listener voicemail about organization
18:20 Call us about your Mom!
18:58 Hey Hey and Ree Ree talk about Stitch Away the Stress and how crochet helps with relaxation
35:57 Producer Sarah and Heather check in about their W.I.P.s and what they're working on
44:00 Credits