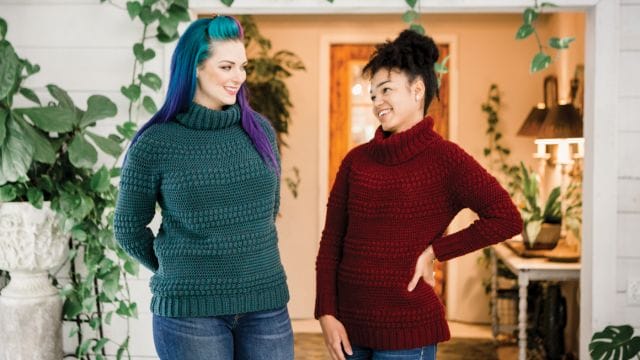 In this episode of the WeCrochet Podcast the team focuses on the crochet community. First, Heather, Sara and Katelyn come together for an impromptu healing session when they think about the last year and how it has changed how they look at community. Each has found ways to stay connected in a physically- and socially- distanced world. Thankfully they have crochet to keep them together (and this podcast).
Next, Heather talks to Amber Millard and Lee Sartori from Stitch Together about their online community of monthly Crochet Alongs or CALs. Stitch Together is unique because this team of 8 designers works together to bring dynamic and premium patterns every month. They offer a Crochet Along pattern that they work on together with their global community. Lee and Amber share what they love most about their group.   
Lastly Heather checks in with the Crochet Foundry team about their origins and their upcoming spring collection. Briana Kepner, Lorene Eppolite, and Pamela Stark share a passion for crochet, design, and community and design a quarterly collection of size-inclusive crochet garment patterns.
Listen, rate, review and share this podcast on Apple Podcasts, Spotify or wherever you get podcasts!
Mentioned in this Episode:
Stitch Together
Tara Pullover | Stitch Together January CAL
Tara Pullover Post 
Divine Debris
Coco Crochet Lee
Temperature Blanket CAL
Crochet Foundry
Crochet Foundry
Sincerely Pam
Briana K Design
Cre8tion Crochet
Coconut Macaroon Sweater Dress by Michelle Moore
Crochet Foundry on WeCrochet Facebook Live
Crochet Foundry on WeCrochet Facebook Live on Youtube
Macchiato Sweater
Timestamps:
0:00  The introduction
0:14  Sara, Heather and Katelyn check in
13:32  Stitch Together with Amber and Lee
28:58  Come join our CAL
30:40 Crochet Foundry
54:30 Credits