It's time once again for a little thing we like to call Meet the Team, the blog post where you meet someone on our team! Today we are introducing Katelyn, our new Outreach Coordinator! She's the person who is responsible for all the patterns you see in our magazine and collections. If it has to do with patterns, Katelyn probably has to do with it!
We are so excited to welcome Katelyn to our team, and also to learn more about her with a fun little interview. Read on!
How long have you been crocheting and when did you fall in love with crochet? I have been crocheting for about 11 years consistently. I learned how to crochet because I wanted to learn to make a granny square like my great grandmother did. My mom couldn't remember how to connect the square so I learned from a Klutz book. Once I learned that I was hooked!
What was your first crochet project? Technically my first crochet project was a simple double crochet scarf in the back loop, at the time I didn't know that it was common to go under both loops. My first real project where I followed a pattern was the Summer Breeze Cardigan from Crochet Today!
What do you wish you had known when you first started crocheting?
Honestly, I was fortunate that didn't know anything when I started so I didn't know if something was wrong or scary. When I started there weren't many blogs or video tutorials to teach you things, or at least I didn't know about them. My first project was a sweater, so no fear there! I hope people can remember when they start that this is all a journey, it is just a stick and string. Enjoy the process and be proud of how far you grow all the time.
I hope people can remember when they start that this is all a journey, it is just a stick and string. Enjoy the process and be proud of how far you grow all the time.
What is your favorite thing to crochet?
I prefer to crochet cardigans and blankets. Every baby I know has gotten a baby blanket. My two kids always try to get me to make things for them but this year I started to make more for myself!
What's your favorite of your crochet projects?
I think that my favorite project that I have made so far was a sweater that I added a mosaic band to. Really I combined two patterns that I had made to make a sweater. I can't wait for the weather to get cool so that I can wear it again!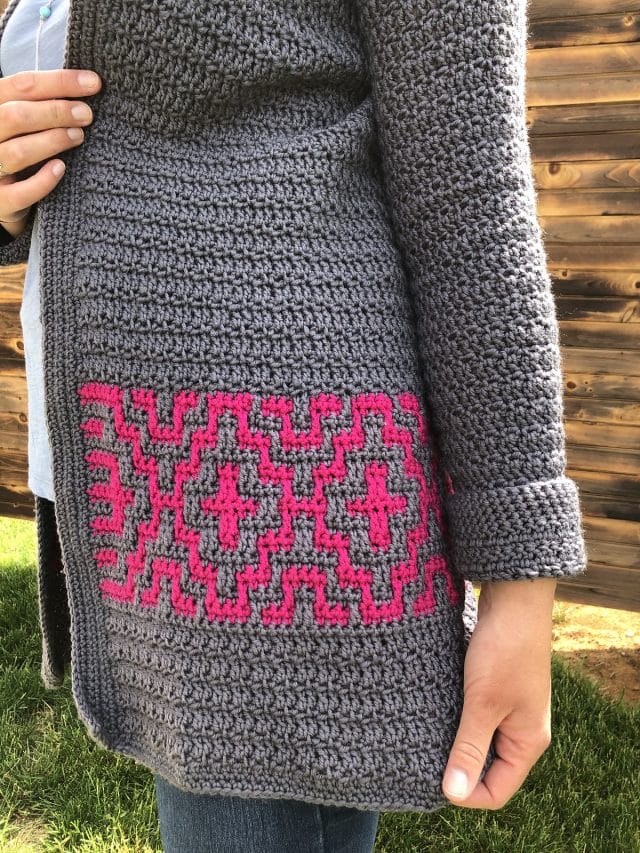 Do you have a favorite crochet stitch or technique?
I don't know that I have a favorite but I have learned that I don't really like slip stitch anything. I have a project that uses it for the ribbing which is in time out because I just can't get my tension right for it!
Current favorite WeCrochet yarn or product?
So far I have only gotten to work with Lindy Chain and have LOVED it! I really can't wait to try out Hawthorne and something tweed!
Biggest yarn/crochet-related pet peeve?
Please don't crochet over your ends! That drives me NUTS!!! I feel like people do themselves a disservice to all the work that they have done if they don't weave their ends in completely. The end up coming out and look unfinished!
Do you have any current crochet goals?
I took a class on Tunisian crochet about two years ago and only made one simple blanket after that. I have a goal to make at least one Tunisian garment this year! I love the look of Tunisian.
What do you hope to bring to the WeCrochet team?
It really is a dream to get to work for a yarn company. Being able to get up every day and work with yarn and designers is so amazing. I hope that I can bring a different perspective to the team when it comes to picking themes and patterns that will help to diversify the content that gets put out. I hope that my love of color and crafts can shine in my future work.
Anything else we should know?
I am so excited to get to join the WeCrochet team. I can't wait to get my hands on all of the amazing patterns that are available. I am excited to get to know the WeCrochet community better and learn from everyone at the company and in the community.
We're so glad you're part of the team, Katelyn!