Join us for the ultimate CAL (crochet along)! We'll join crochet designer Toni Lipsey through 2021 in making her Bias Granny Temperature Blanket! What is a temperature blanket? It is a way of documenting the temperature throughout a given year.
1. Get the pattern:
About the Bias Granny Temperature Blanket
Document your year in color when you make the Bias Granny Temperature Blanket. This temperature blanket chronicles the temperature for each day of the year using one of three carefully curated palettes in Swish Worsted yarn. Each granny square is joined as you go for a comfy, oversized throw blanket. Adjust the colors and temperature gauge to fit your local weather range. By New Year's Eve, your new favorite blanket will be complete, complete with 365 happy memories.
Get the pattern here: Bias Granny Temperature Blanket
2. Choose Your Yarn & Color Palette:
Toni designed this blanket for use with Swish Worsted, and has put together 3 color palettes using that yarn (see below), but you are also free to create your own color palette!
Get the 2021 Temperature Blanket Kits at 20% off!
If you want to create your own color palette, we will provide tips and tricks for that in a future blog post, or check out the WeCrochet Podcast episode 12: Show Your True Colors, in which we talk about how to choose colors for your project, and Toni Lipsey gives tips on how she chooses her wonderful color palettes.
Toni's Swish Worsted Palettes
If you like, pick one of Toni's 3 suggested color palettes in Swish Worsted: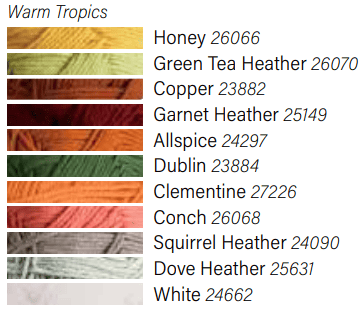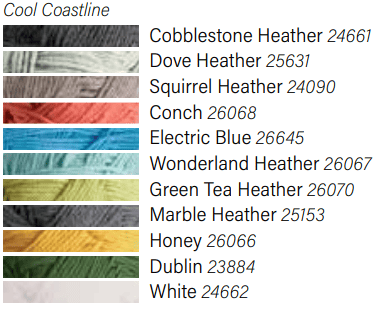 3. Create a Temperature Gauge
Use this temperature gauge to assign a color to a temperature range that works for your location (for example 31-38 degrees is assigned the Dove Heather colorway). Each day throughout the year, you'll make a small granny square motif in the color to match the high temperature each day. At the end of the year, all the squares will be joined together to create a blanket documenting the year.
Here's a gauge you can save to fill out:
Toni has made temperature blankets for a few years now, and we can't wait to join her with this project in 2021! It's a great reason to find time to crochet every day, and each person's blanket will be unique to them! Be sure to share your progress with #WeCrochetTempBlanket2021!
How to Join the Crochet Along:
To participate in the 2021 Temperature Blanket Crochet Along, join and post here:
CAL Timeline:
You have the whole year to do this one!
December 1: Pick one of Toni's color palettes. We have kits available on crochet.com or check out the color offerings in Swish Worsted and create a color palette of your own.
December 7: Order your yarn! Be sure to get your order in before the end of the year, so you'll be ready to start crocheting on January 1!
December 14: Look over the pattern and work up a practice granny square.
December 21: Assign your color palette to temperature ranges for your area. Pro tip: if you live in a climate where the temperature doesn't fluctuate very much, assign a smaller temperature range so you can still use all the colors throughout the year!
January 1: Begin! Start making granny squares to match the daily temperature and keep it up as the year progresses!
February 1: First check-in! Share pictures of the squares you've made so far on social media with #WeCrochetTempBlanket2021
June 1: Second check-in! Share more photos and admire how everyone's colors have started as the seasons change.
November 1: Last check-in! Share more photos of your progress. See the colors start to change again.
December 31: Finish up and share your photos! Use this day to join all your motifs together and finish up the crochet border. Be sure to share your photos so we can see your year's worth of work and start getting ready for the temp blanket of 2022!
Watch Toni's Join As You Go Tutorial: