WeCrochet Magazine Issue 5 is out, which means: NEW winter crochet patterns! Today we're talking about the patterns of the Wintertide Collection, our winter crochet patterns collection that features 11 warm & cozy garment and home decor projects to carry you through the coldest time of the year.
You can find all of these patterns in WeCrochet Magazine Issue 5. Each of these holiday crochet patterns is also available as an individual free download in the Patterns section of crochet.com. See the whole collection here: Wintertide Collection.
Now, let's check out these fun crochet patterns!
Winter Crochet Accessory Patterns
Since we already sneak peeked this set above, let's jump in by talking about the Crossing Earwarmer, Cowl, and Mitts.
A contemporary snowflake motif is used in a variety of ways across this sporty, stylish set of earwarmer, cowl, and mitts. The sport-weight colorwork is worked using tapestry crochet and sewn to the cozy faux-fur lining. Buttons fasten the earwarmer snugly around the head. Quick to whip up, this cozy accessory set will become your neck, hands, and ears' favorite thing this winter, whether you're hitting a ski slope or out for some holiday shopping!
We also have this pretty crochet cowl pattern:
Wrap up with this snug woolly cowl designed to add a spot of color to the gray days of winter. The Yuletide Cowl is worked flat in rows, changing yarn color on each row, and seamed along the short sides once the desired size is reached. You can wear it two different ways: doubled up twice for a short and cozy cowl (left), or fully extended (right).
You might also enjoy: 9 Holiday Crochet Patterns
Winter Crochet Garment Patterns
But what the Wintertide Collection is really about is crocheted garment patterns! Our whole team was stunned when we saw this one: the Hygge Poncho.
Relax in this contemporary and sophisticated sleeved poncho. The combination of simple stitches, front pockets, and unique overlapping border create an on-trend poncho that will soon become the star of your winter wardrobe. 
The Hygge Poncho really looks like the perfect thing to wear all winter long! And it has pockets!
We have several sweaters in this collection too:
There's a sweater for everyone in this collection! For cable-lovers, we have the Snow Crystal Sweater. If you like more simple and classic designs, you'll love the Polaris Pullover. The Hearthstone Top is a perfect everyday wardrobe accent. And if you want a Nordic-style sweater this winter, the Perseid Sweater fits the bill.
The Pulmu Pullover has taken off as an early hit from the Wintertide Collection. Use colorwork to create a stunning yoke on this crocheted sweater.
We're crocheters too! Brand Director Sara has already made at least two versions of the Pulmu Pullover, and we heard a rumor she has another one on the hook!
Winter Home Décor Crochet Patterns
But wait, there's more! This collection also has some really pretty home décor crochet patterns for winter.
If you admire the beauty of traditional Fair Isle knitting but prefer to crochet, then the Nordic Colorwork Blanket is for you. Crochet your own heirloom-quality blanket using tapestry crochet!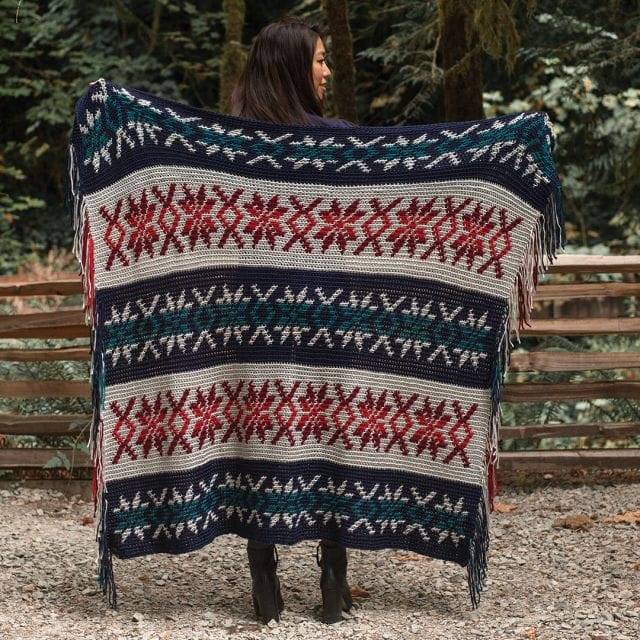 Another special feature of this project? The ends of each row are left long on the ends to serve as fringe, so virtually no ends weaving necessary for this breathtaking crochet blanket.
Finally, the Pillows of Wintertide! The gray one is the Winter Cabin Pillow: a textured chevron pattern creates a chic geometric look and minimalist feel. The green and white pillow is the Hideaway Pillow. Inspired by Southwestern blanket coats, this unique pillow is packed with texture and interest and can be made in so many color combinations.
Find these patterns and more in WeCrochet Magazine Issue 5
Issue 5 of WeCrochet Magazine channels the feeling of snowflakes on your nose, warm and cozy winter cabins, bright and colorful holiday cheer, and as always, all things crochet!
Don't miss our other crochet pattern collection: the Warm Wishes collection, our winter holiday crochet patterns collection, featuring 9 brightly-colored projects to carry you through holiday celebrations this year.
Also in this issue: Learn mosaic crochet to bring color to blah winter days with the Prism Mosaic Afghan crochet pattern! Get ready for the new year and join the Temperature Blanket CAL for Toni Lipsey's temperature blanket. Find holiday gift guides, interviews, book reviews, and more.