You are cordially invited to join us in our new Crochet Along Challenge, featuring the Clean Sweep Rug pattern by Katy Petersen of KT and the Squid (@ktandthesquid).
Get the pattern here: Clean Sweep Rug Pattern OR get it in WeCrochet Magazine Issue 6!
About the Clean Sweep Rug
Get ready for some spring cleaning with this stunning rug in many colors designed by Katy Petersen from KT and the Squid (@ktandthesquid)! The Clean Sweep Rug uses worsted yarn and can be made as a rectangle or circle and in multiple sizes.
Get the Clean Sweep Rug pattern.
Choose your Yarn:
While we recommend Brava Worsted for this project (so many colors, hard-wearing and washable, and you can't beat the price), this is also a great opportunity to clean out your stash and use colors you have on hand. Pick many colors or stripe just a few; the choice is up to you!
What color palette do you prefer?
Cool tones (blues and greens, white)
Warm tones (reds, oranges, yellow, purple, cream)
Neutrals (Grays, white and black, or browns, tans and cream)
Retro (brown, orange, yellow, red, purple, with a dash of pink)
Bright (classic rainbow in various shades: Red, Orange, Yellow, Green, Blue, Purple)
Pastels (lighter, softer colors like pink, mint, sky blue, lavender)
Insert your own color palette idea here!
How to Join the Crochet Along:
To participate in the Clean Sweep Rug Crochet Along, join and post here:
CAL Timeline: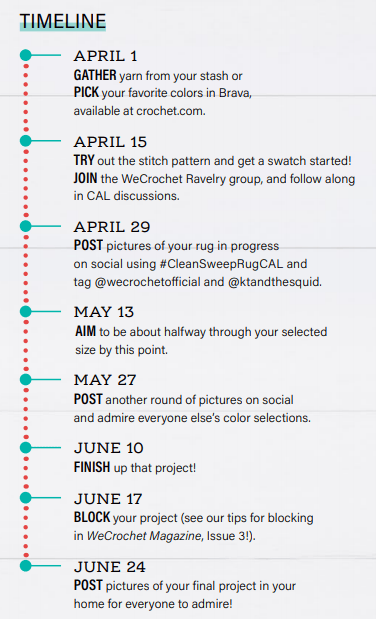 April 1: Gather yarn from your stash or pick your favorite colors in Brava and place an order.
April 15: Try out the stitch pattern and get a swatch started. Join the WeCrochet Ravelry group or WeCrochet Family Facebook Group, and follow along in CAL discussions.
April 29: Post pictures of your rug in progress on social using #CleanSweepRugCAL and tag @wecrochetofficial and @ktandthesquid.
May 13: Aim to be about halfway through your selected size by this point.
May 27: Post another round of pictures on social and admire everyone else's color selections.
June 10: Finish up that project!
June 17: Block your project (see our tips for blocking in WeCrochet Magazine, Issue 3 or in our learning center: How to Block Your Crochet.)
June 24: Post pictures of your final project in your home for everyone to admire.
We hope you'll join us!