Welcome to the second week of the Summer Sale! This week we have great deals: up to 60% off laceweight and fingering weight yarns! How about some lace crocheting inspiration? This photo above shows the yarns used in one of our newest collections: Lyrical Lace.
Find this week's sale here. (Ends on 6/27/2021 at 11:59pm PDT).
Get WeCrochet Magazine Issue 7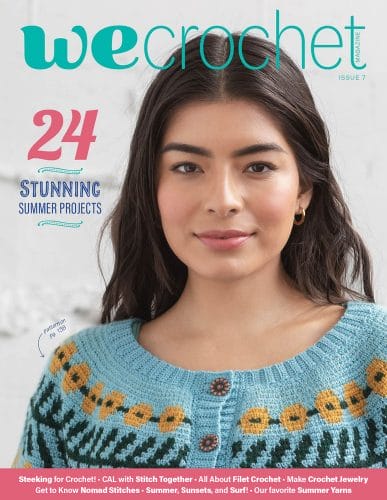 WeCrochet Magazine Issue 7 is now available in eBook format! The print edition will be available July 17. You can find the patterns of this issue available in our Patterns section on crochet.com.
Speaking of patterns, let's check out a few of the patterns in this issue that use laceweight and fingering weight yarns!
Patterns of Lyrical Lace
Looking for laceweight projects to crochet? Here are a few: Delicato Top (using Luminance Lace), Forte Filet Tee (using Curio #3 crochet thread), the Fairy Bells Bracelet (made in Curio #10 crochet thread), and Lark Lace Earrings (also made in Curio #10).
These are only a few of the brand new patterns available, so go check out what else WeCrochet Magazine Issue 7 has to offer. And don't forget to go discover deals on lace and fingering yarns this week in the Summer Sale.