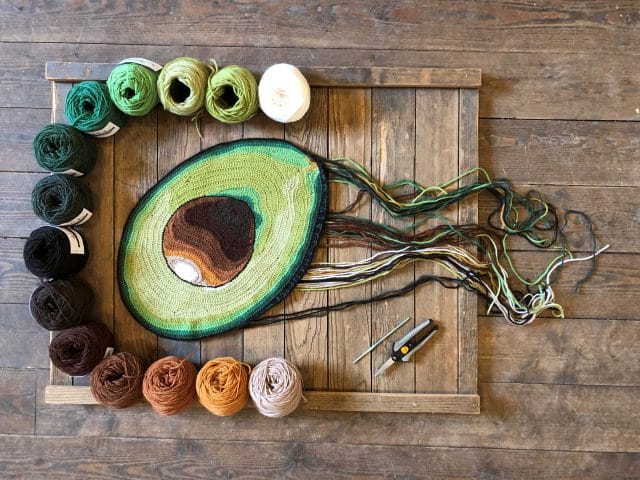 Kate Moran is a multi-medium contemporary artist based in Fernie, British Columbia . Always finding inspiration in the fine details, Kate demonstrates masterful patience in her slow art fascinations of free-form crochet, micro-macrame, textile arts, block-printing, delicate beadwork, and more. ⁠Her newest gallery show "The Guacamole Series" featuring large-scale crocheted works, opened on July 29, 2021 at The Arts Station in Fernie, BC.
This show contains seven large crochet pieces depicting the individual components of guacamole, rendered completely in crochet. Kate used WeCrochet's yarn, Wool of the Andes, to realize her vision for this project. This yarn is 100% Peruvian Wool, available in so many colors, as demonstrated by these beautiful photos of Kate's work.
"Sometimes an idea strikes, and it must be brought to life! The concept of free-form crochet had been sparking my interest for some time, and I finally dove in January of 2019. I describe my approach as paint-by-number, and the finished product, a yarn painting. Years of working up projects in the craft of crochet make it possible for me to apply a deep understanding of stitches to intuitively crochet-paint with yarn. The new, crucial skill of working with ambidexterity allows me to always be looking at the front of my work, and change directions as needed to build my stitches into an image," Kate said in her artist statement.
Kate also said: "I am secondly passionate about this content as a vegetarian, and avid gardener. Most importantly, I ate heaps of guacamole during the pivotal year I lived on a school bus in Central America. These ingredients incite an indescribable joy in me. As it relates to the public, this series concept is colourful, fun, and has proven to be palatable to the visual taste buds of many. Unintentionally, this series now brings appreciation of times I traveled and was nourished by these local foods abroad. They remind me that healthier days are ahead when we can all explore foreign cuisines and cultures again."
You might also enjoy: The Art and Business of Crochet
Kate also completed small versions of her oversized pieces, which are also available for sale at the gallery (and on their website). As of the writing of this blog post, several of these smaller pieces have already been sold!
You can follow Kate online on her Instagram account acefergusonstudio. Ace Ferguson is Kate's mobile bus studio/store, featuring her meticulous original artwork.