Temperature blankets are a snapshot of the weather over a given time period in a given area through your crochet. The great thing about temperature blankets is that you can pick any colors, yarn, stitch pattern and time span that you want.
Please join us for our 2021 Temperature Blanket Crochet Along!
Once you decide that you want to make a temperature blanket to record a year or time period you will need to choose what yarn you will use. Picking colors and yarn for your temperature blanket is important because you need to know how many colors you will use, what range of colors you will need, and how many balls of yarn you might need.
Picking Yarn Colors and Deciding How Many
Picking your colors and how many is determined by range between your high and low temperature. Take a look at the highs and lows that you are seeing for the year, or the year before, to get an idea of where to start.
Most often people pick between 8-10 colors to represent their temperatures. Each of these colors will represent between 5-12 degree changes. This all depends on how much of a difference you have between your high and low for the year, so yes that means that there is some math before you get started on your project.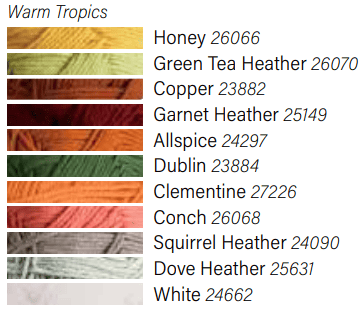 Although you will see that many temperature blankets are done with rainbow colors, having reds be the warmer temperature and blues being the colder temperature, you can pick any colors you enjoy. Be sure to think about the value difference in the colors so that you can always be sure to see the difference. A really great way to do this is to take a black and white photo of your color selections. This will show you if there is any value difference between your colors.
Picking the Right Yarn for a Temperature Blanket
Because you will need multiple colors of yarn it is important to pick a yarn that is affordable for your budget and also that has a wide range of colors to choose from. You might also consider if the yarn is machine washable for ease of care, and remember that the weight of the yarn will affect your chosen stitch pattern and the size of the final finished blanket.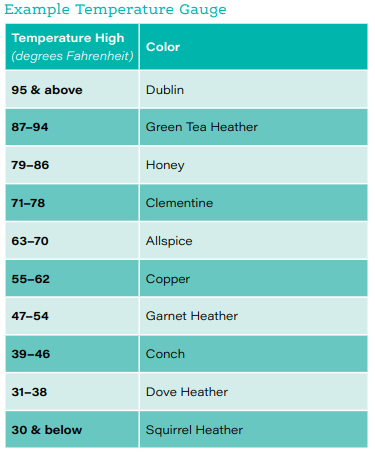 It is hard to tell exactly how much yarn you will need for this project. Just like meteorologists, we can't predict what the weather will be for the entire year, so we need to make a guess. If you aren't sure what your average high or low is for your area try out a weather tracker to get those answers. A lot of your yarn requirements will also depend on where the temperature falls in your scale. If it is an uncommonly cold or super warm temperature you might only use it once or twice so you might only need one or two balls of that color.
You can look at last year's temperatures, or examine several recent years' temperature history to get a feel for how often certain temperatures might occur. Then make an educated guess.
WeCrochet Yarn Suggestions
There are quite a few great yarn options from WeCrochet that you can use for your temperature blanket.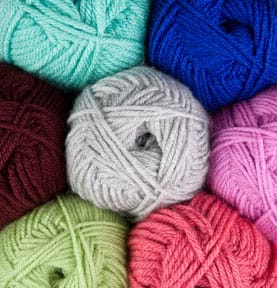 Brava Worsted is always a great choice! Not only is it super affordable but the color selection is extensive. Another great thing about this yarn is that you can get a 500g skein of some of the colors (Brava 500) that you might be using a lot! This is a go to option when making a blanket for someone else because it's machine washable and dryer friendly, and the price can't be beat.
Brava Worsted: 100% premium Acrylic, 218 yards, 49 colors
Swish comes in both worsted and DK to make it a great choice for making temperature blankets. This yarn line has a large color palette making it a great choice for color work projects like a temperature blanket. This yarn is machine washable, and super soft.
Swish Worsted: 100% Fine Superwash Merino Wool, 110 yards, 43 colors
Swish DK: 100% Fine Superwash Merino Wool, 123 yards, 39 colors
Wool of the Andes Superwash is another strong option when it comes to color selections. It's a great option for a warm wool fiber that is also machine washable and easy to care for.
Wool of the Andes Worsted Superwash: 100% Superwash Peruvian Highland Wool, 110 yards, 100 colors
Comfy is a a great cotton-blend option. This yarn is a combination of cotton and acrylic that will make it perfect for areas with warmer weather. This machine washable yarn is also great for gifting as it is easy to care for and a natural fiber. It comes in both Worsted and Fingering weight, which means you can select the weight that will keep your Temperature Blanket the right size.
Comfy Worsted: 75% Pima Cotton, 25% Acrylic, 109 yards, 34 colors
Comfy Fingering: 75% Pima Cotton, 25% Acrylic, 218 yards, 19 colors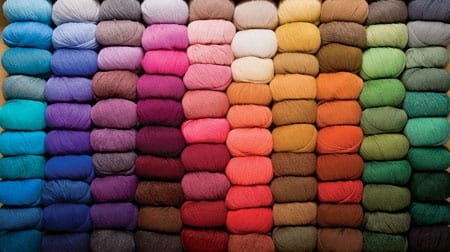 Palette is always a fan favorite when it comes to color work. With 144 colors there are so many options for your temperature blanket – you could even use a different color for every single temperature!
Palette is a fingering weight yarn so it will require more stitches depending on what stich pattern you choose. Being fingering weight could be a benefit so that your finished project doesn't get too large but you still get all 365 days included. This yarn is hand-wash only and lay flat to dry.
Palette Fingering: 100% Peruvian Highland Wool, 231 yards, 144 colors.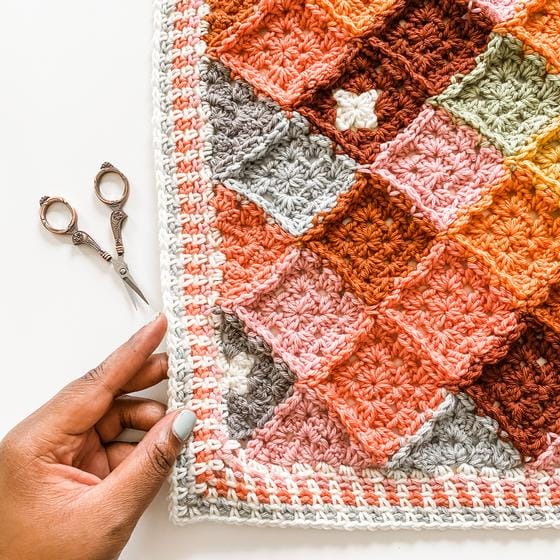 If you haven't already, please join our 2021 Temperature Blanket Crochet Along, and read our other related articles: