So you want to learn about crocheting a temperature blanket? Temperature blankets are a crocheted snapshot of the weather over a given time period in a given area. In other words, you use the temperatures of your area to dictate the colors you use to create a blanket. The great thing about temperature blankets is that you can pick any colors, yarn, stitch pattern, geographic location, and time span that you want.
Use yarn to paint a picture of a special year in your life. Before you get started on your next temperature blanket, learn more about crocheting temperature blankets and gather some inspiration. In this post, we'll do an overview of starting a Temperature Blanket, but stay tuned for more posts on other temp blanket-related posts in the coming weeks!
Join us for our Temperature Blanket Crochet Along: 2021 Temperature Blanket Crochet Along
Create a Temperature Gauge
Before you begin crocheting a temperature blanket, don't forget to create a key (or temperature gauge) to keep track of what each temperature color will be so that you don't forget when it is time to start working your project. You'll need to decide a couple things: How you will decide what temperature to use, how many colors you want to use, and what pattern or stitch you'll use for your project.
In the image above, BurgundyAndBlush shows a temperature gauge with holes punched next to each temperature range, along with a snippet of yarn which shows the color palette.
Here's an example temperature gauge from Toni Lipsey's Bias Granny Temperature Blanket pattern, using Swish Worsted: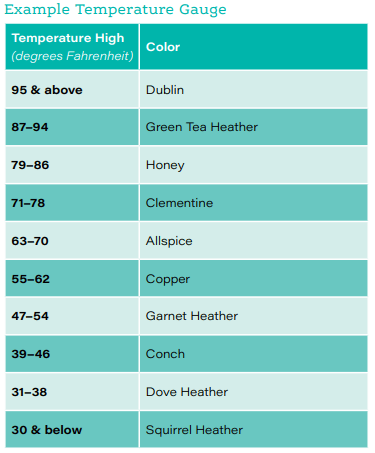 Decide what you will base your gauge on: the high temperature of the day, the low of the day, or the mean, median, or average? Choose one of these, then assign a range of temperatures, and the color that will represent each range.
How many colors of yarn will you use in crocheting your temperature blanket? Decide how many colors you will use, and then using your region's full range of temperatures (the highest to the lowest during the whole year — use an internet search to find this information), determine how wide the range will be for each color you are using.
Remember, you can adjust the temperature gauge to work for your region, depending on your weather and range of temperatures. For instance, if your location stays hot but doesn't get below freezing, adjust your gauge to fit with your average yearly range of temperatures. Here's a blank template you can use: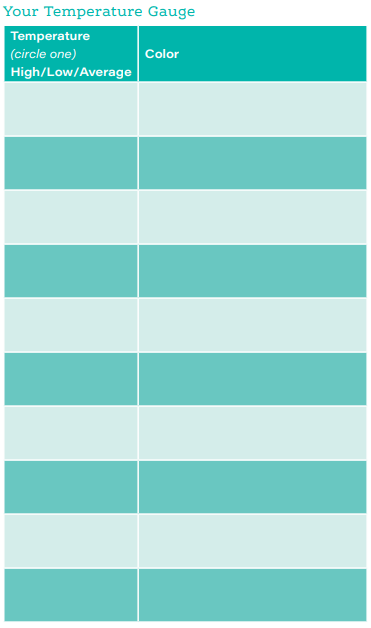 Pick a color palette for your temperature blanket:
While you are determining your temperature ranges, you should also select your color palette. You can use any palette you like, from rainbow colors, to a range of neutral colors, to a specific palette that inspires you. If you're feeling unsure about how to create a great crochet color palette, here are some color palettes that Toni Lipsey has selected for use with her Bias Granny Temperature Blanket project:
For more help with selecting a color palette, you can:
browse Pinterest for color palette ideas,
find a favorite garment or home decor item and borrow its color palette,
check out the #TemperatureBlanket hashtag on Instagram
or listen to our WeCrochet Podcast episode Show Your True Crochet Colors, where we talk all about color and choosing color palettes for your projects.
The photo above features an in-progress crochet temperature blanket by angeloakcreations.
What stitch or crochet pattern will you use for your crocheted temperature blanket?
We're hosting the Bias Granny Temperature Blanket Crochet Along, so of course we would love it if you join us! But there are lots of options for stitches and patterns to use in crocheting your temperature blanket, and some people like to use different patterns each year.
For instance, the above photo shows TLYarnCrafts' 2019 Temperature Blanket, done in Tunisian crochet.
Anything goes for crocheting your temperature blanket pattern, just make sure the math works out when you're calculating gauge! Try moss stitch, corner to corner, granny squares, Tunisian crochet, ripple stitches, etc.
Recommended Reading: For more help on figuring out how to choose a pattern for your temperature blanket, read TLYarnCrafts' post about temperature blankets.
Tracking Dates
Depending on how you want to work your project you can track the temperature for every day or just the average for the week (and some people track both the high and the low of the day, but we're not getting into that here!). You will need to be consistent on what you are tracking throughout your project. Tracking the temperature each day can be a challenge. If you don't make it a habit you might forget to record some days. Set a reminder to at least mark down the temperatures once a week so that you don't get too far behind.
Use online tools to help keep track of temperatures for your crocheted blanket
If you do forget to record the temperature on the day it occurs, check an online almanac that shows your town's daily temperature record. A quick internet search of your town's name + daily temperature should do the trick to help you track down missing temperatures.
Tip: You can also use this method of finding temperatures to crochet temperature blankets for special years you'd like to commemorate. This is wonderful for a special gift, for instance a birthday (using the year of birth) or anniversary gift.
In the image above, crochet_hello uses a Tunisian crochet ripple stitch for a temperature blanket.
How should you keep track of your temperature information?
Use whatever method works best for you. You can use a calendar and write the temperature down on each daily square, use a piece of paper, graph paper, write it in your daily journal, or even make note of it on your phone.
In the image above, rachelcassondra has drawn a graph of the dates, temperature gauge, and then colored in each day's block to keep track of the yarn color needed.
Does it have to be a blanket?
The concept of a temperature blanket can be altered to be any project that you would rather make. So, before you get overwhelmed by the thought of making a blanket for 365 days consider making a smaller project. Try making a temperature scarf or pillow. Some people have made temperature sweaters, temperature dresses, and even a temperature giraffe! You may need to adjust the stitch pattern that you pick and how you work your days but a temperature project is a great twist to add to any pattern you like.
The above photo shows a temperature scarf by hot.tub.crochet.machine.
How to adjust your pattern to work with a temperature schedule?
The concept of the temperature blanket can be used for other items, it is all about keeping a record of an important time in your life. Since the year can be broken up in different ways, you can choose to use the days, weeks, or even months.
If you want to work on a smaller project try:
keeping a record of the weekly or monthly average instead of the daily average for your project.
Finishing a smaller part of your project using the daily temperature, for instance, half a row instead of an entire row.
In the image above, Pixielaurens' temperature scarf made with small crocheted circles to signify each day. Each row contains seven circles, in other words, each row is worth one week of temperatures.
How to stay in Love with your crocheted temperature blanket
Many of us fall out of love with our crochet patterns when they take a long time to make. We sometimes get bored with working on the same thing and want to start something new. A temperature blanket is a very large project and it's easy to understand why people fall out of love with their temperature blankets.
In the photo above, a top-down view of TLYarnCrafts' hands working on her crocheted temperature blanket.
Switch up the Stitch: Rather than working the same stitches throughout your blanket try changing it up so that there is something different to look forward to; perhaps you can do 12 blocks total, and each block can use a different stitch.
In the photo above, a top-down view of a partially-completed temperature blanket by zanymade on Instagram.
Work in Batches, not Daily: You also don't need to crochet your temperature blanket every day. Keep a record of the temperatures and work on it once a week or once a month while you also work on something else.
Get a Temperature Buddy: As with most things it is easier to stay on track when you have an accountability buddy. Grab a friend (in person or virtually) and work on crocheting your temperature blankets together sharing your progress along the way. This is another great way to keep you loving your project and sharing how yours are the same or different.
We invite you to join our Ravelry group's Temperature Blanket CAL thread. We'll be happy to cheer you on as you work on your temperature blanket.