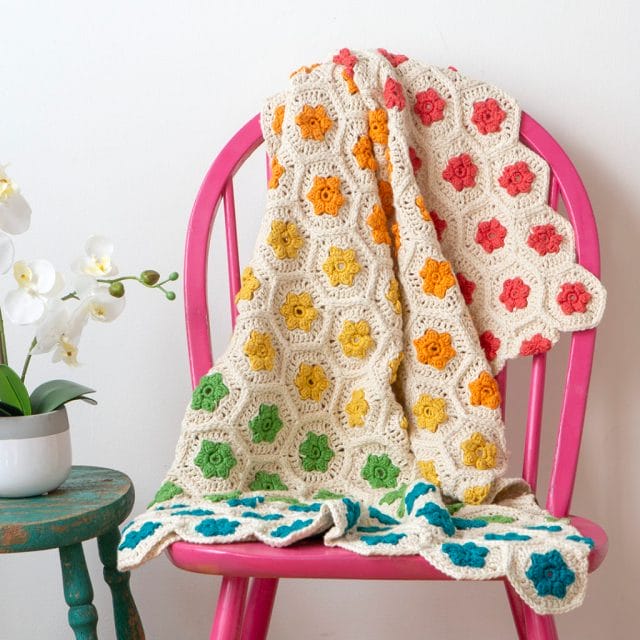 Is anything more inspiring than a rainbow crochet project? As we reach the end of April, in which we've been Stitching Away Stress, we want to end with a big colorful crochet-splosion! This month, we've talked about crocheting for self-care, embracing community over comparison, and shared striking statistics about the power of crochet in mental health (and also encouraged you to take the Stitch Away Stress survey, which you can still do!). Now let's end it all with a big ol' parade of rainbow projects!
Why rainbows? Well, we were inspired by our Chief Marketing Officer, Ursula, who told us a story. Her daughter, after a very difficult time, was encouraged to knit/crochet a blanket in rainbow colors, because "a rainbow comes after the storm." Rainbows are colorful, cheerful, and of course, come after a storm. What a great reminder!
Rainbow Crochet Patterns:
Rainbow Garden Throw
Let's start with the Rainbow Garden Throw, shown above! This free rainbow crochet pattern is inspired by love of nature and passion for bringing the outdoors in. The cheerful colors and textured flower petals provide a modern take on a classic design.
Sparkles the Crocheting Unicorn Softie
One of our newest patterns also happens to be one of our brightest and most fun! Sparkles the Crocheting Unicorn Softie is a free pattern that you can download right away. Make it your own by choosing your own rainbow colors for Sparkles' mane and hooves.
Other Unicorn+Rainbow Crochet Patterns:
Sparkles has some friends, too! Don't miss the Dazzler the Unicorn Headband and the Glimmer Sisters Unicorn Slippers. All free rainbow crochet patterns to download ASAP!
Felici on the Double Cowl
See where the Felici takes you in the Felici on the Double Cowl. This cowl will keep you going "just one more row" to the point that just one cowl won't be enough! Holding self-striping Felici double will give your stripes a color-shifting effect that changes so much over the course of the cowl, you won't be able to put it down. Easy enough for the beginner, even the advanced crocheter will love how quickly these chevrons work up.
I should know… I crocheted all the cowls in the photo! I couldn't stop making this one.
Flower Garden Scarf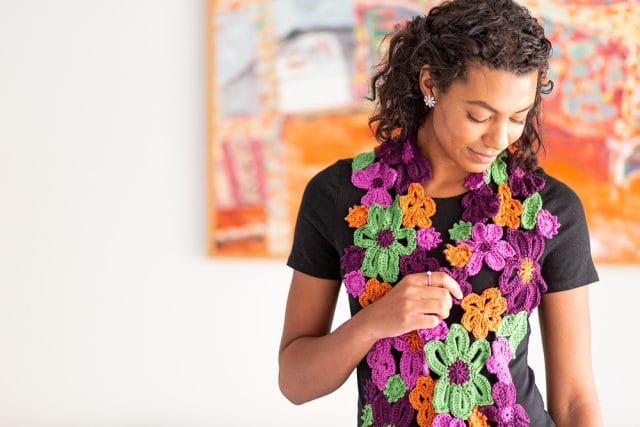 While not technically a complete rainbow, the Flower Garden Scarf is a free crochet pattern that can be made in a rainbow of colors and is sure to bring a smile to the faces of anyone who sees it.
Hue Shift Afghan
The Hue Shift Afghan is made with mitered squares made in 2 alternating colors. Eleven colors blend harmoniously in this rainbow-colored afghan!
You can even buy a Hue Shift kit to get 10% off on the yarn needed for this blanket. Or, choose your own 11 colors to crochet a completely unique rainbow of your own.
Rainbow Crochet Blankie
In the darkest times, sometimes a person needs a bit of warmth, cheer, and love. Crochet this simple chevron blanket in bright colors and it will be something they'll hold on to for years to come.
Download the free pattern: Rainbow Crochet Blankie.
Granny's Rainbow Dishcloth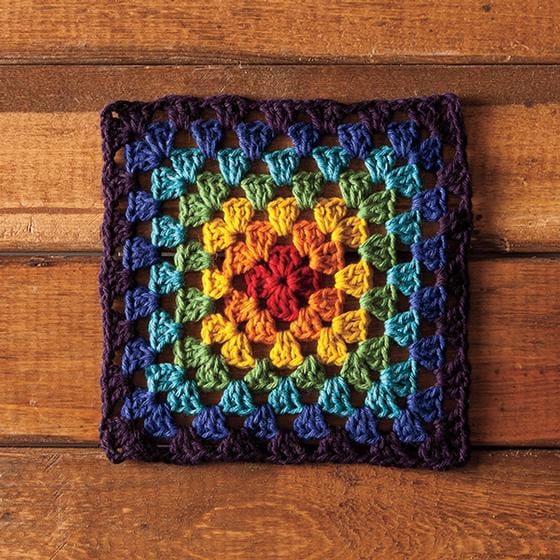 Not up for a full blanket? How about crocheting a pretty rainbow granny square dishcloth? Granny's Rainbow Dishcloth is a free pattern that can be made as a dishcloth, or use it as a jumping-off point for a granny square-based creation.
We hope these rainbow crochet patterns give you some inspiration and help keep you crocheting beyond Stitch Away Stress month!