Please join us in welcoming High Desert, our first-ever 100% All-American made yarn, to the WeCrochet family!
High Desert is 100% American grown and spun Merino and Merino/Rambouillet wool, sourced from the Shaniko Wool Company. These sport and worsted weight boutique-style yarns are processed in South Carolina, dyed and milled in North Carolina, and come in a spectrum of beautiful colors inspired by the landscape and skyline of Oregon's high desert. Featuring a soft hand with an artisanal appeal, High Desert is ideal for crocheting texture, cables, and colorwork.
If you're looking for a project that makes the most of this heirloom-quality yarn, look no further! We've created a breathtaking collection of 13 beautiful crochet garments & accessories, each designed to keep you warm, cozy, and stylish no matter where your travels may take you. This 100% wool collection is brimming with iconic colorwork patterns, visually compelling motifs, and timeless textures, all designed with our first-ever 100% All-American made yarn in mind.
Click to explore the High Desert collection
In other news…
Our winter issue of the WeCrochet Magazine is here and is ready to kick your gift making inspo into high gear! This issue is brought to you by the care we feel when crocheting a gift for a loved one, the magic of the holiday season, and as always, all things crochet!
Three themed collections are featured in this issue, including In a Hurry: Fast & Flurrious Projects for Gifting (quick gifts to make for the whole family!), Art of Modern Mosaic (5 projects inspired by women in art), and Cozy Luxury (8 garments that make the most of luxe yarns).
Click to view the Cozy Luxury eBook
New Wonderfluff
Four new colors of Wonderfluff & Wonderfluff Ombré are ready to become squishy cowls and cozy, light-as-air sweaters. As an added bonus, their bulky weight makes them ideal for whipping up last minute gifts!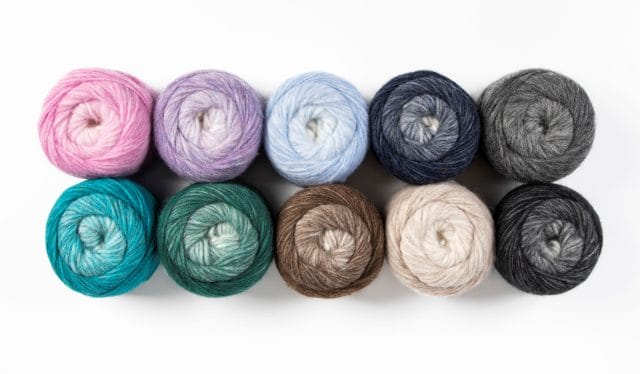 Last, but certainly not least, from now until 10/31, you'll save 40% on Radiant Hooks!
That's the news for now. Until next time, may your yarn be plentiful and your hooks on point.
Hooray crochet!