It's the most wonderful time of year: when we give away free crochet patterns every week leading up to the holiday gift-giving season. We're featuring a new free pattern every Tuesday for 12 weeks. This week's free crochet pattern is the Lisbeth Beanie.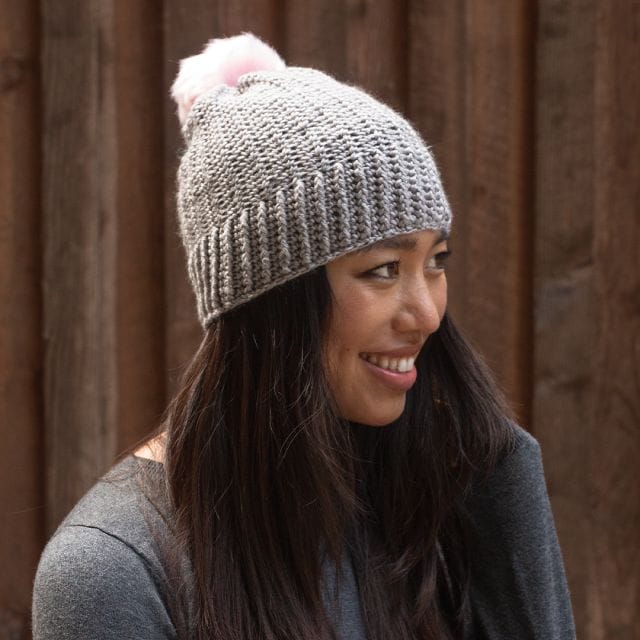 To help you with your holiday gift list, we offer our favorite annual tradition: the 12 Weeks of Gifting, where we release a brand new free pattern every Tuesday for 12 weeks, counting down the days to mid-December. We are featuring all sorts of projects—from cozy shawls
to cushy scarves and pretty hats—a little something for everyone on your list!
Lisbeth Beanie – Free Crochet Pattern
Download the free crochet pattern: Lisbeth Beanie.
Yarn needed: Mighty Stitch
Inspired by the icy landscape of a Colorado winter, the arching pattern in this hat mirrors the wind whipping snow into drifts. The Lisbeth Beanie is worked in the round from the bottom up with a ribbed brim. The top of the hat is stitched with a repeating arch and then cinched together before being topped with a faux fur pom-pom.
Stay Tuned for More 12 Weeks of Gifting Patterns to Come
We can't wait to reveal the rest of this year's 12 Weeks of Gifting Patterns, so check back next Tuesday to find out what the final pattern will be.
In the meantime, check out last year's 12 Weeks of Gifting Patterns to inspire you as you craft up your holiday gifts (or maybe just make something for yourself!)