It is that time of year. We are looking for fun crochet designs for WeCrochet Magazine Spring 2022!

Submission Themes
WeCrochet is looking for a variety of crochet designs for our upcoming Spring 2022 magazine. We have provided mood boards of inspirational images and yarns to use, as well as specific designs we are looking for in this PDF. This call is for crochet designs only.
Brief Description
We are looking for new crochet patterns in 5 themes for Spring 2022— Motif Mania, Garden Party Lace Tops, Tunisian Crochet, Crochet Organization and Homesteading. Please see each theme's mood board for exact yarn and project details.
Motif Mania: Think modern motifs for module projects like blankets, bags, garments, pillows and more.
Garden Party Lace Tops: Think filet crochet, broomstick lace, pineapple stitch and other open stitches.
Tunisian Crochet: Think bags, hats, garments, blankets and more in a variety of skill levels and stitch patterns.
Crochet Organization: Think baskets and other things to organize in your home.
Homesteading: Think making everything for your home from lamps and rugs to baskets and decor.
Compensation/Support
$200-800 (depending on design) per pattern. Our preference is to purchase the pattern outright as an exclusive on the new crochet website. WeCrochet will crochet the samples and will provide yarn support for designers to crochet their own version of the pattern. WeCrochet will also photograph all samples and designers will be able to use these photographs for their own promotions. WeCrochet will provide tech edits and the final pattern layout.
Submission Requirements
NOTE: there is a new process for submissions, see below for more information.
NEW Designers: Want to learn more about the submission process? Check out our new class "Get Published" with Tian Connaughton.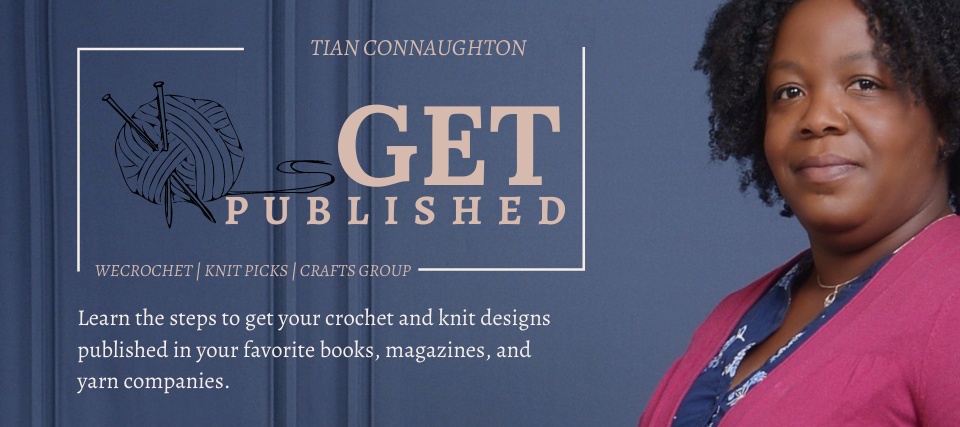 One-page submission, complete with:
Detailed pattern information
Suggest yarn
Sketch of the design
Sizes included
Designer bio/contact information
If the pattern has a stitch pattern other than solid colored single or double crochet, please include a photograph of a swatch of the stitch pattern on the one-page submission
While swatches do not need to be in suggested yarn, we do suggest a solid, neutral color similar to the intended finished project so we can get a better feel for your pattern.
Include all relevant information on one page. Due to high volume, submissions not in this format may not be accepted.
Patterns cannot have been already published elsewhere. Please do not submit completed patterns. Our intended projects and themes are shown on the inspiration boards. Please keep these in mind when putting together your submission.
Send To
Send your submission via this Google Form (https://forms.gle/pt39RDuxGA5SGEQt5). Please keep your file size to under 5MB (there are several free websites to reduce file sizes if needed) as anything larger will bounce.
Other Info
For yarn support, designers must have a US, Canada, Australia, or UK mailing address. If you do not live in one of these countries you will need to have a shipping address in one of those countries for us to ship to and then facilitate shipping to yourself.
Submissions will be accepted through May 10, 2021; designers will be notified of final decisions by May 21, 2021 at the latest. Finished patterns will be due by June 15, 2021. Any other questions may be directed to submissions@wecrochet.com.