Hooray, the Spring Issue of WeCrochet Magazine is now available, and in this issue we provided 10 Ideas for Crocheted Flowers. Today let's learn how to use your flowers to make a crocheted flower wreath!
Project Materials Needed:
10 Crocheted flowers
A foam wreath form
A crochet hook (to match yarn size)
Straight pins
(Optional) Greenery or other wreath accents
A note about the project materials:
Crocheted flowers: You can use any crocheted flower pattern you want, or make up your own. For our wreath, we used flowers from the Flower Garden Scarf pattern, and the Flower Girl Hairclip pattern, and crocheted them in Mighty Stitch Worsted.
NOTE: The number of flowers you need depends on the size of your wreath, the size of your flowers, and how full you want the wreath to look. Make it your own!
Wreath form: Ours is 10″ and from the dollar store.
Yarn: Use this to wrap the wreath form. We used Mighty Stitch Super Bulky to cover the wreath form.
Blocking Crocheted Flowers:
Before you begin assembling your wreath, block your crocheted flowers. To block the flowers:
Mist flower with water, then pin it to a blocking mat to spread petals. Allow to dry.
Covering the Wreath Form with Yarn
To cover up the foam finish of our wreath form, we decided to crochet Mighty Stitch Super Bulky yarn around the form.
Alternately, you can just wrap the yarn around the wreath form, using a small dab of hot glue to secure the ends of the yarn.
How to crochet around a wreath form:
Tie yarn around the wreath form, then insert hook inside the yarn circle around the form.
Yarn over and pull a loop through. You have one loop on your hook.
3. Wrap yarn around the form, going through the center of the wreath, and catch it with your hook. Pull yarn through loop on hook.
4. Wrap yarn around the wreath in the other direction (around the outside of the wreath form), and catch it with your hook. Pull yarn through loop.
5. Continue to crochet yarn around the wreath form this way, alternating between bringing yarn through the wreath opening, and around the back of the wreath, until the wreath is completely covered in yarn.
Keep your chain of loops around the outside of the wreath form.
6. To finish, chain 10 to create a loop for hanging. Connect end chain to first chain to create the loop. Fasten off and cut yarn. Weave in any ends.
Decorating the Crocheted Wreath with Flowers
Now for the fun part! You get to decorate the wreath with your crocheted flowers and any other accents you want to add.
Pin the flowers on the wreath using straight pins with a small head (like dressmaker's pins or floral pins). Arrange the flowers however you like!
Add other wreath elements, such as greenery or ribbons, and pin in place.
And, you're done!
Like this tutorial? You'll love WeCrochet Magazine, Issue 2!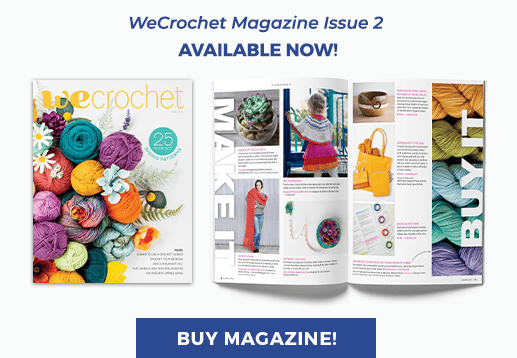 In this issue we feature two distinct crochet collections—first, Blooming Spring has 12 brand new crochet patterns that celebrate flower power with garden-inspired patterns, floral motifs, appliqués, and unique colorwork.
Next, Beloved features 12 original projects designed to help add a handmade touch to the ceremony of a lifetime. In this collection, you'll find romantic accessories, garments, gifts, and party décor that will express your creativity on the big day.
Join our latest CAL with the Bobble Diamonds Throw. Read up on favorite crochet books, including and interview with author Salena Baca. Learn tapestry crochet, intarsia crochet, puff stitch, bobble stitch, popcorn stitch, horizontal puff stitch plus 10 ways to use a crochet flower!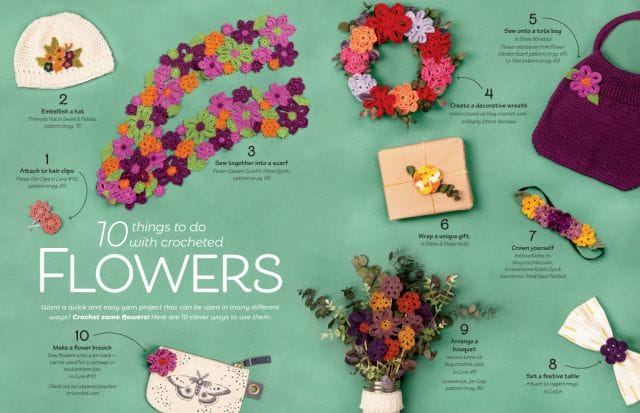 We've added a lot of love to this issue, and we hope you find some patterns and ideas that YOU love! Let us know your favorite thing in the magazine by sharing with #wecrochetmag on social media.