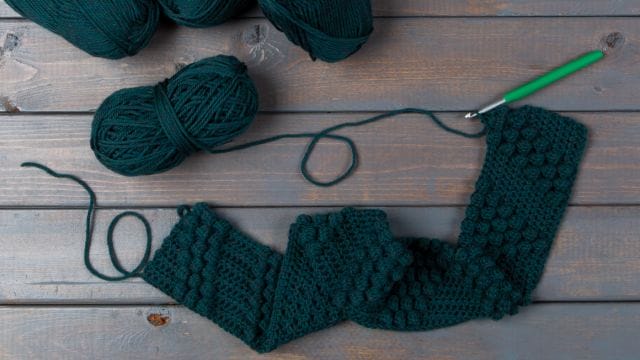 WIPs or works in progress are either apart of someone's daily crochet experience or something that is not experienced at all. While some people work on one project at a time, others might have 15 projects going at once. On this episode of the WeCrochet Podcast Heather, Producer Sarah and Sara are talking about their WIPs.
First Producer Sarah and Heather check in. Heather has counted all the projects she's done since getting hired at WeCrochet March 2019. Producer Sarah invites Heather into her feelings about her WIPs and Heather holds an emergency Crochet Therapy session.
Sara and Heather talk about all their WIPs and work through what they suspect have been the hurdles that have prevented the completion of these projects. Heather also shares the story of how she accidentally picked up another hobby while working on a WIP.
Before each of our Facebook Live Coffee & Crochet events, Sara and Heather interview that day's guest in our virtual Green Room. Claire from E'Claire Makery, Lee from Coco Lee Designs and Amber from Devine Debris each share about their WIPS.
Listen, rate and review on Apple Podcasts
Mentioned in this episode:
Heather's Projects on Ravelry
Producer Sarah's Ear Savers
Brava Beanies
WarmUp America blocks
Rabbit Amigurumi
Braided Headband
bobble bearded beanie
Carnation Top
Dusk Camisole Pattern
Janie Crossbody Tote
It's a Beautiful Day
Llama Wall Hanging
Bumble Tee
Bobble Diamond Throw
Felici On The Double Cowl
Block Party Tee
Solveig Cardigan
Boho Boss Bag
Luxe Granny Square Top
Betty Boyfriend Sweater
Tessellation Tee
Canopy Shawl
Summer Breeze Sweater
Twilight Top
Dearly Beloved Shawl
Rose Window Top
Gansey Sweater
Sebago Hat
Calathea Cardigan Pattern
E'Claire Makery
Coco Crochet Lee
Devine Debris
Stitch Together
Timestamps:
0:00 Welcome to the WeCrochet Podcast
0:14 Heather shares her recent discovery
7:38 "Project monogomous" defined
8:52 Heather offers Crochet therapy
10:21 "How do you know when to give up on a crochet project?" answered
13:08 Sara and Heather talk about WIPs
17:17 Sara shares some behind-the-scenes peek what happens right before a pattern is published by WeCrochet
18:14 "Heather do you have a list of WIPs?"
19:09 Heather's new hobby story
23:39 Sara's list of WIPs
30:14 "What patterns have you noticed that keep you from finishing a WIP?"
33:01 From the Facebook Live Green Room
33:23 Claire from E'Claire Makery
35:00 Lee from Coco Crochet Lee
36:44 Amber from Devine Debris
39:32 Credits