In this post, we will discuss what the Triple Chain Yarn technique is, when to use it in your crochet projects, and how it works with crochet patterns. Read on!
What is a Triple Chain?
The triple chain is a crochet technique that allows you to work with three strands of yarn at once while only working from a single skein. Because you'll be working three strands of yarn together, you can use a hook size larger than what is recommended for that size yarn or follow what is recommended in the pattern.
Why should I use a Triple Chain?
One reason to use the triple chain method is that it can be used to instantly create a bulkier-weight yarn from a thinner yarn. So if a pattern calls for bulky or super-bulky yarn, and you only have worsted weight, you can use the worsted weight yarn you have on hand in the pattern.
One triple-chain is roughly equivalent to three strands of the same yarn and will create a bulkier weight yarn, all from one skein of yarn. This is similar to using three strands of yarn held together.
Video Tutorial
Watch this short video to learn how to do the triple chain technique in crochet, or read on for a written and photo tutorial.
Picture Tutorial
To create a triple chain, you are basically finger-crocheting a chain with very long loops and then crocheting that chain as a bulkier-weight yarn. Here's how to do it:
– Beg by making yarn into an S-shape.
– Pinch center of S to pick up 3 strands of yarn.
– Make a slipknot, wrapping all 3 strands together.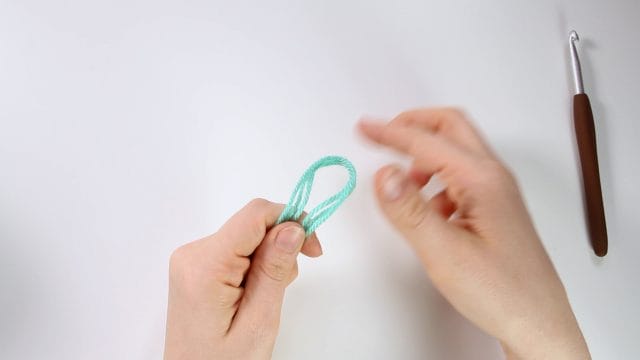 – Placing fingers through lp of yarn,
– Pick up the single strand of yarn coming from cake or skein, and pull it through lp.
– Pull a length of yarn off the cake of yarn to make a long lp. Gather 3
strands of yarn together so that the single strand winds off cake and joins 2 strands of the new long lp.
– Put the hook back through the loop of the slip knot
– Crochet chain using all 3 strands.
– Continue this chaining method until you've reached the desired chains. When you reach the end of a lp,
pull the single strand through end of lp to make a new long lp and allow single strand to join it as you crochet.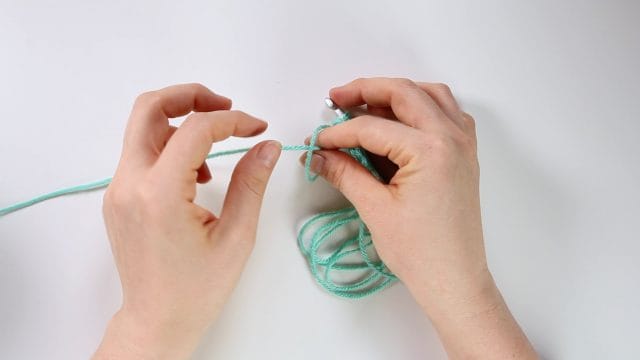 Using all three strands of yarn continue to work the crochet chain.
It might take a few practices to get it right. Watch the video if you need more help!