High Desert is the newest addition to the WeCrochet yarn lineup. We're extremely proud of this yarn line that consists of 100% American wool, and is completely raised and prepared exclusively in the United States. Read on to learn more about the journey of this American yarn line.
As we set out to create High Desert yarn, Crafts Group's first all-American-made yarn, esteemed Rancher Jeanne Carver was also looking for a partner. Carver, a rancher at the historic Imperial Stock Ranch and the newly-launched Shaniko Wool Company, wanted to bring Shaniko's certified Textile Exchange's Responsible Wool Standard (RWS)* wool fiber bounty to an American brand to join forces with to create a uniquely American yarn line.
Located just 120 miles east of Crafts Group's home of Vancouver, Washington, in north-central Oregon's high desert, Shaniko Wool Company is committed to producing fully traceable and sustainable wool, with an emphasis on honoring the land, water, and animals.
Carver's decades of experience transforming raw wool to finished goods was the genesis for our High Desert yarn line. Her passion for seeing Shaniko's wool make its way to an American manufacturer meant that working with Knit Picks and WeCrochet was the perfect fit.
It was a match made in (wool) heaven and a partnership was born. 
"I saw this partnership as a valuable opportunity to bring Crafts Group its first yarn from America," said Carver. "The fact that we are 3rd party certified to this international benchmark is something that I and the other ranchers have felt the yarn industry and its consumers are ready for. In addition to premium quality and performance in the wool, it gives added confidence in our practices."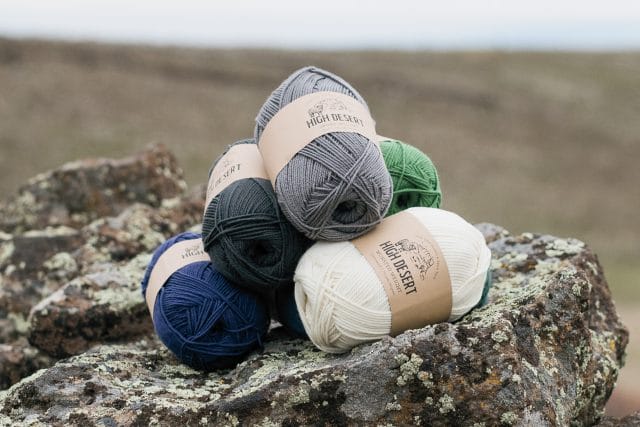 For Carver, a rancher and wool producer in her own right, building the relationship with Crafts Group was important because of the positive impact she says the needle arts crafters have had on her during her own 20+ year journey taking the wool harvest direct to market. Those crafters helped her see just how important traditional skills have always been, and the connected circle from the animals who provide the wool to our clothing.
"[Crafters] have mentored me and taught me things I did not know," said Carver. "They showed me the critical importance of needle arts across cultures around the world and how important those skills have been in the development of humankind. They helped me build my wool marketing efforts. They are family." Summing it up, Carver said, "I learned plain and simple that we need needle crafting. Since primitive times, this circle remains constant." 
Carver and the ranchers she partners with have a deep respect for the land and animals from which their wool originates. The RWS* certification process ensures a fully traceable and sustainable wool supply all the way from source to the product. As a rancher, Carver believes honoring the roots of fiber is a key element in today's fashion and textile industries. 
High Desert is a farm-to-fashion movement, similar to the farm-to-fork movement in the culinary world. Carver describes the Shaniko Wool Company operation as the first step in a chain that supports the use of wool from American land, making its way through American manufacturing, American designers and makers, while keeping it as close to home as possible. 
"Working with family ranching operations specifically in the American West connects timeless traditions and the culture of tending land and sheep to the actual product," said Carver. 
Crafts Group looks forward to following along on Carver's journey and continuing its partnership with Shaniko Wool Company to bring even more American-made yarn to consumers.   
Learn More about Jeanne Carver and Shaniko Wool Company: In the Knit Picks Podcast episode High Desert yarn with Jeanne Carver: Everything You Wanted to Know About this American Wool and More
*The Responsible Wool Standard (RWS), developed by Textile Exchange, is an international benchmark program for responsible land and animal management.