At a time when many of us are finding ourselves with a bit more free time than we're used to, we're reminded that crocheting brings us joy and comfort. We're going to keep crocheting, and we hope you'll join us. Here are some highlights from our crochet community.
How to Make a Yarn Swatch Book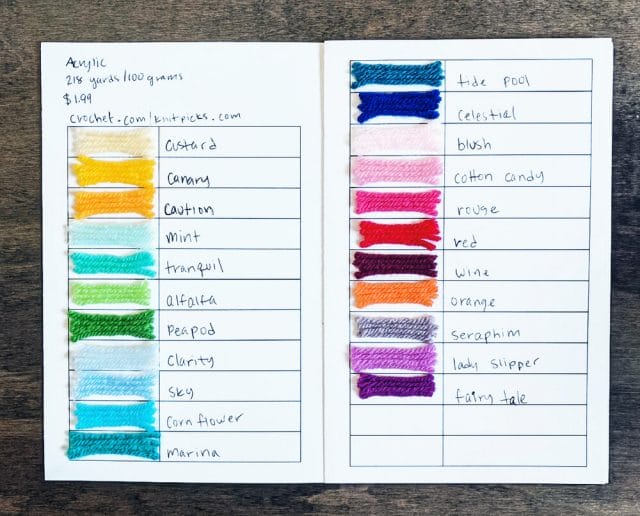 We absolutely LOVE this DIY Yarn Swatch book our friend Lisa at HelloHappy made to keep track of her Brava yarn. Get the tutorial (and printables!): DIY Yarn Swatch Book.
Joyce's Meditative Mandala
"This is what I'm working on. Helen Shrimpton's 'Mandala Madness' using Brava sport weight. I'm having a grand time keeping my hands busy! Thirty more rows to go."
-Joyce R.
Lexington, KY
Handmade Hermione
Deborah sent us a photo of her current project: "Amigurumi keeping me busy."
Hooray for Hats
"We in the 55+ community where I live, have several ladies who are knitting and crocheting hats, scarves and gloves/mittens for homeless people in the northern states.  I am so proud to be a member of the group.  I feel I am making a difference, no matter how small.

I like unusual hat patterns and to that end, I have quite a collection!
This is the hat I am working on right now, called the Pinetree Hat.  It is made with fingering yarn. Crocheting is my passion!  I do knit (if I have to😊) and also tat, a lost art.  I am self-taught in everything and also left-handed!" -J Morreale
Amazing Rainbow Abacus Blanket
Mister Domestic is working on this lovely rainbow blanket, made with the Abacus Blanket pattern, and a Hue Shift Crochet Afghan Kit.
"Crafting keeps me sane and I wouldn't want to imagine my life without it. Knowing how important it is for my self care, my family supports me taking time each day for myself to craft. I'll either go into my craft space and crank up the Enya or grab a skein and hooks and watch some Netflix and, when I'm really in a tizzy, I find that repetitively working the one stitch or an activity in a project has this way of forcing me into presence and basically resets my energy to tackle the rest of my day." – Mathew Boudreaux- Mister Domestic
Heirloom Crochet
Jeanette G. wrote:
"Just listened to the most recent podcast. I smiled a lot while listening to all the stories. I am so thankful for my mother and all the needle crafts she taught me, especially crochet!  When my mom passed away she left me this beautiful crocheted spread that her grandmother had given to her. It's a treasure!"
Brava Bunnies
Yaya's Hook and Yarn made these adorable crocheted bunnies for her Etsy shop… and they sold out! We love her Brava Worsted color palette!
Un-Planned Pooling in Dishie Multi!
dd_glenn on Instagram made this pretty plaid pattern with Dishie Multi.
"This ACCIDENTALLY happened! All this time I wanted to do Planned Pooling crochet to get that look of plaid- and I get it without even trying. I absolutely LOVE this Dishie Multi in Berry Basket that I ordered from @wecrochetofficial!!!"
To Try this Plaid Pattern Yourself:
Using Dishie Multi, dd_glenn says: "I used a 4.25 mm G hook–smaller than recommendation, and did the Moss Stitch with a chain of 28."
Join us, because #TogetherWeCrochet
Stay in touch: We're sharing all that is keeping us buys, making, and collaborating. We also send out educational tips & tricks, free patterns, and more. Sign up for Emails.
Join us on Facebook: The WeCrochet Family Facebook group is a great place to connect with fellow crocheters to share what you're working on or ask for help when you need it.