We're so excited because we've partnered with Stitch & Hustle for the 2020 Perfect Picot Blog Hop. We were able to send some of our favorite yarns to some amazing crochet designers to see what they would design. We were not disappointed! So many pretty designs (don't worry, we'll show them all shortly).
But First, the Giveaway
You can win all you need to make some of these designs! Head over to Stitch & Hustle's Giveaway to enter.
"WIN ALL YOU NEED TO MAKE THIS" GIVEAWAY: RULES / DETAILS:
The giveaway runs through Stitch & Hustle's Rafflecopter and ends on October 9, 2020.
The prizes are grouped in sets of 3 so each winner will win "All The Yarn To Make" the 3 things in that group and there will be FIVE winners total!!! FIVE WINNERS!!!
Now, the 16 Perfect Picot Designs!
Picot Crochet Shawl by Briana K Designs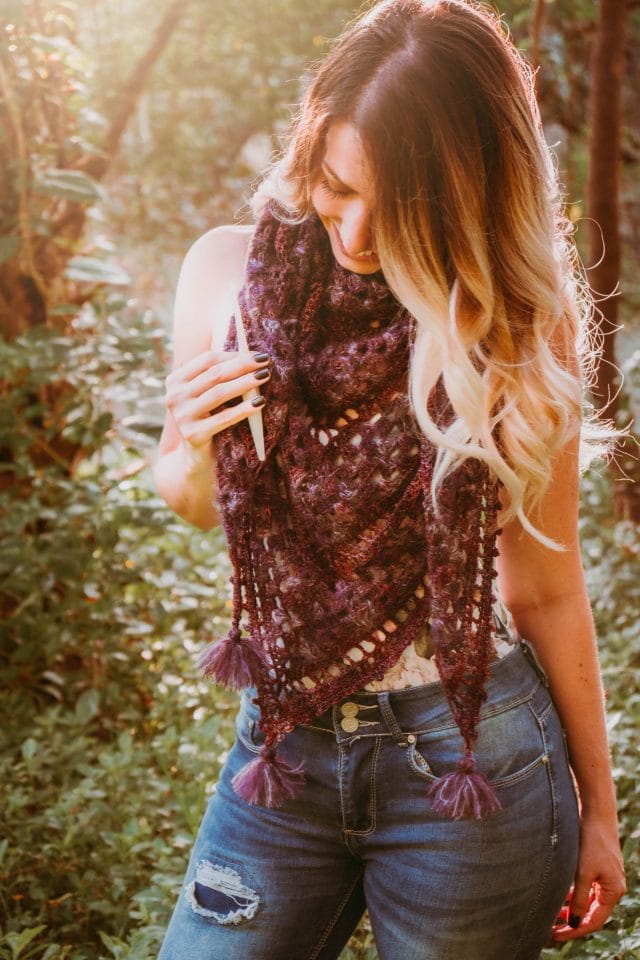 Isn't this shawl gorgeous? It's a FREE picot crochet shawl pattern made with Hawthorne Fingering Yarn paired with Aloft Hand Painted (our mohair-silk blend). Check out those adorable fuzzy tassels!
Citrus Wrap by 2 Bossay Knits
Next up, a beautiful crochet wrap design by Michelle Tharpes of 2 Bossay Knits featuring Chroma Twist + Brava Worsted. Check out that picot crochet edging, and oh yes, there are some beautiful tassels too!
KoKo Cocoon Cardigan by Crystalized Designs
How about more Chroma Twist to crochet up a pretty crochet cocoon, by Crystalized Designs. If you've never made a cocoon, you really should — it's so much fun to crochet a rectangle and then transform it into a wearable shrug!
Diagonal Sunset Wrap by Joy of Motion Crochet
Chroma Twist is one of our favorite yarns, so we're happy to see another lovely design featuring this yarn! This one is the Diagonal Sunset Wrap by Janne Kleivset of Joy of Motion Crochet. This design really shows off off those long gradient color changes so well! (And look: this design was inspired by Janne's dahlias in her summer garden!)
Picot Edge Scarf by 5 Little Monsters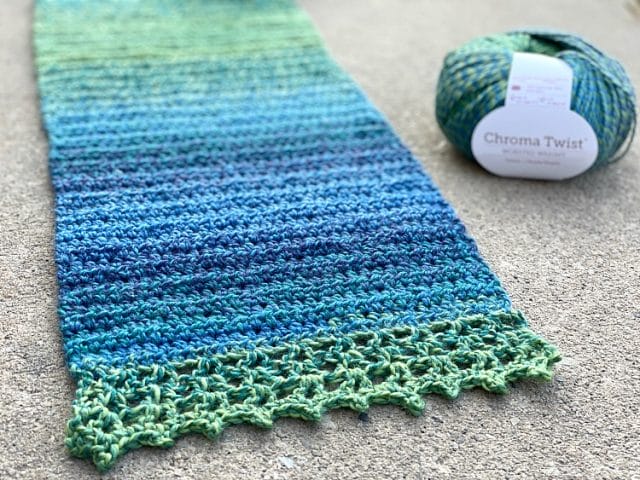 Looking for another great design for Chroma Twist? Look no further than this eye-catching Picot Edge Scarf by Erica Dietz of 5 Little Monsters. We love the use of picot crochet for a nice lacy edging.
Hayloft Capelet by Detroit Knots
Next we have a design for you Tunisian crochet lovers! The Hayloft Capelet is by Natalie Thomas of Detroit Knots, and she was really innovative in the way she used her yarn. This capelet is made in Hawthorne fingering and Aloft mohair. The Aloft is held double with itself, and alternates 2 rows with the Hawthorne, which creates these intriguing stripes.
Boxed In by ACCROchet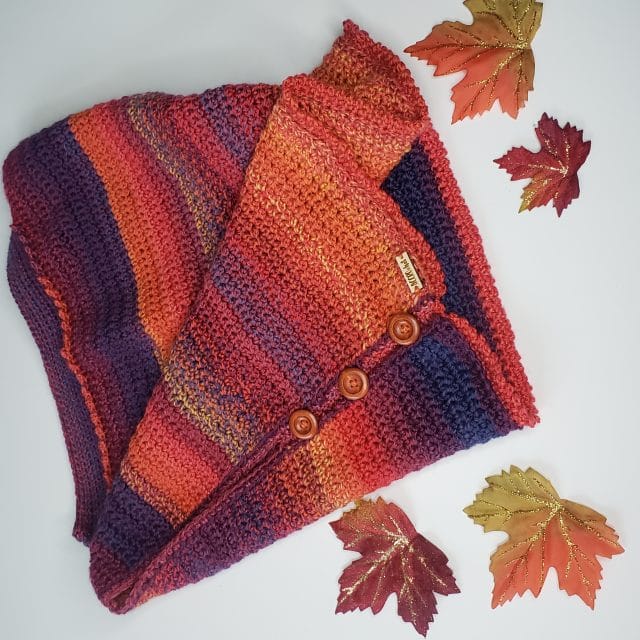 And now, another pretty Chroma Twist pattern! This is Boxed In, a lovely boatneck pullover pattern by ACCROchet, which really highlights the lovely fade of this yarn.
Contessa Cropped Pullover by Sincerely Pam
The Contessa Cropped Pullover by Pamela Stark of Sincerely Pam showcases pretty Hawthorne Fingering yarn in an easy-to-wear cropped pullover style. (We love how it's styled with our WeCrochet Tote Bag in Saffron!)
Simple Crochet Baby Bonnet by love.life.yarn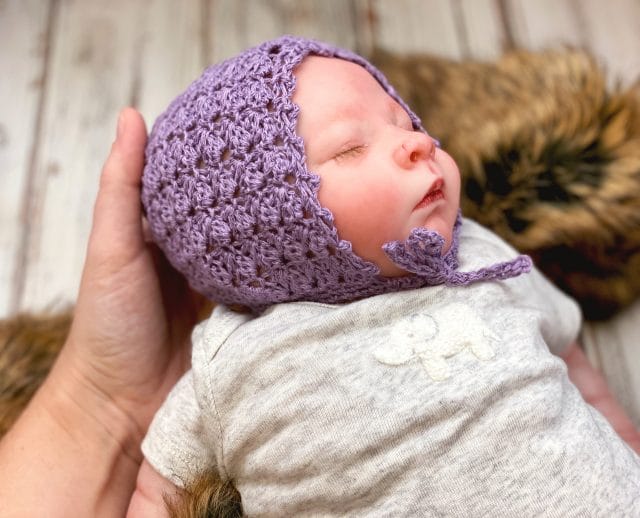 (How cute is this model?!!) Next, check out this Simple Crochet Baby Bonnet, designed by Amanda Saladin of love.life.yarn. This is crocheted in Lindy Chain, our fingering weight chainette Linen/Pima Cotton blend. This is the perfect quick-crochet project for any new babies in your life.
September Mandala by Oombawka Design Crochet
If you've been wanting to make a crochet mandala, the September Mandala crochet pattern by Rhondda Mol of Oombawka Design Crochet is for you! She designed it in Mighty Stitch worsted, and suggests two different colorways for you to choose from (although of course, picking your own color palette is always fun too!)
Picot Me Up Ear Warmer and Cowl Set by The Loopy Lamb
The Loopy Lamb designed the Picot Me Up Ear Warmer and Cowl Set, made in Swish Worsted in Wonderland Heather. This set is a great weekend crochet project and something to add to your holiday "to make" gift list.
Sleepy Sunrise Amigurumi by Underground Crafter
If you're looking for a cute crochet toy to make, look no further than the Sleepy Sunrise Amigurumi by Marie Segares of Underground Crafter. It's made in Mighty Stitch worsted and is as cute as can be.
Tropical Sunset Fingerless Mitts by The Stitchin' Mommy
Back to Chroma Twist Worsted and a set of pretty Tropical Sunset Fingerless Mitts by Amy Ramnarine of The Stitchin' Mommy. These will make great holiday gifts, or a gift for yourself as the days start to get colder.
Josephine Cloche by M2H Designs
Practice your crochet colorwork in a pretty cloche hat that will dress up your fall wardrobe. The Josephine Cloche crochet pattern is by Andee Graves of M2H Designs and is made in Swish worsted.
Picot Trip Cowl by Moogly
If you're looking for a snuggly cowl to make, check out the Picot Trip Cowl by Moogly. It's crocheted in Chroma Twist Bulky so it will work up super quickly, and it is accented by lots of nice texture thanks to the picot stitches throughout.
Atlantic Waves Shawl by Stitch & Hustle
Finally, let's wrap it all up with a wrap made in Chroma Worsted. The Atlantic Waves Shawl by Michele Costa of Stitch & Hustle is the perfect picot crochet accessory to keep you warm AND brighten up any outfit.
We don't know about you but we are sure inspired to start some new crochet WIPs! What did you see that you want to make?
Visit all these crochet designers (click on each picture in the list above to find your way to the pattern for that design), let them know how much you like these designs, and don't forget to enter the giveaway to win a ton of WeCrochet yarn!