Hi Crochet-Alongers! How are you progressing on your Faux Fade Wrap, our current WeCrochet CAL? If you'd like to join (or just get caught up on all the CAL details), go here to find the Faux Fade Wrap Crochet Along information.
By now, you should have already chosen your fade colors and made a swatch, and possibly already started your shawl! Let's check in on a few people to see how they are doing.
Zoey's Faux Fade Shawl
Zoey is our digital graphic designer (responsible for all our pretty downloadable calendar wallpapers, WeCrochet emails, and other goodies), and she's a beginner crocheter who decided to jump in and join the Faux Fade Shawl CAL.
First, she had to choose her color palette! She was thinking a dark red & black palette, (inspired by Freddy Kreuger's sweater!), so I helped her figure out what colors to use.
She settled on these Palette Fingering yarn colors: Black, Asphalt Heather, Asphalt Twist, Garnet Heather, Tomato, and Larch Heather.
CAL TIP: We also decided that even though this pattern is simple, it is really helpful to have a stitch marker to mark which side you need to do the increases on, since you only increase on one side of the shawl.
That's all the progress we have to report so far on Zoey's shawl, but check back in later for more.
Producer Sarah's Faux Fade Wrap
Producer Sarah is also working on the Faux Fade Wrap. Her project page on Ravelry says: "I don't have the exact yarns that the pattern calls for so I'm not sure I'll do the fade effect. I just have single cakes of Palette. Might just do stripes."
So far, it's looking pretty cool, Producer Sarah!
WeCrochet Ravelry Group CAL WIPs:
Skeeleyma on Ravelry has a Palette Minis Sampler Box to play with! She started with this pink fade, but decided to frog and go with a more Autumnal palette, and it's looking NICE (check out more pics on her Ravelry project page):
Then SheThatKnits on Ravelry has a really pretty color palette started, in a steely blue-gray array:
Non-Wool Yarn Alternatives?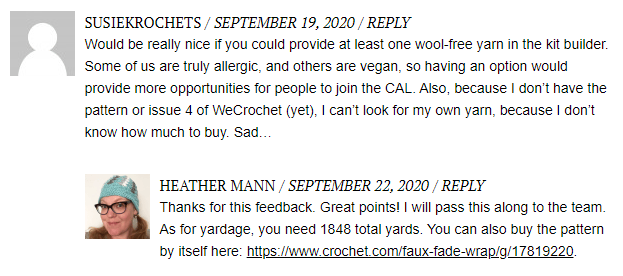 We got a comment from SusieKrochets, who made a great point — what about those who don't want to use wool yarn?
"Would be really nice if you could provide at least one wool-free yarn in the kit builder. Some of us are truly allergic, and others are vegan, so having an option would provide more opportunities for people to join the CAL. Also, because I don't have the pattern or issue 4 of WeCrochet (yet), I can't look for my own yarn because I don't know how much to buy."
I did pass this feedback along to the team, as something for us to think about in future CALs and kits! So what about people who want to use a non-wool yarn for this project?
Because this is made of single crochet stitches, I bet the drape won't be adversely affected by switching fibers, so you can definitely use a non-wool fingering weight yarn of your choice for this. (Results will vary when you switch up a fiber, but that's all part of the joy of crochet, dontcha think?). You might want to play around with hook sizes and swatching to make sure the shawl results in a drape that you like.
First though, let's figure out the yarn QUANTITIES you need for this shawl. The Faux Fade Shawl pattern calls for 1848 total yards of fingering weight yarn
Using Palette, you need:
1 ball lightest color (231 yards)
1 ball light color (231 yards)
2 balls medium color (462 yards)
2 balls darker color (462 yards)
2 ball darkest color (462yards)
= 8 balls total
So you can use those numbers to work out what you will need when you substitute yarn for this pattern.
Here are some non-wool yarn ideas for this CAL:
Comfy Fingering
With a large selection of colors, this yarn is a perfect cotton option for the Faux Fade Shawl. The blend of Pima cotton and acrylic fibers in Comfy Fingering make it easy to crochet, and it's completely washable and easy-care.
Because this yarn comes in at slightly less yardage per ball of Palette (218 versus Palette's 231 yards), you might want to buy extra balls of yarn, or just throw a single extra in for one of the colors (which should cover the difference, although it might affect where the color fades take place on the shawl.)
Here are a couple Comfy Fingering palettes you could try:

A dark and deep Comfy Fingering palette.
A light and bright Comfy Fingering palette.
Lindy Chain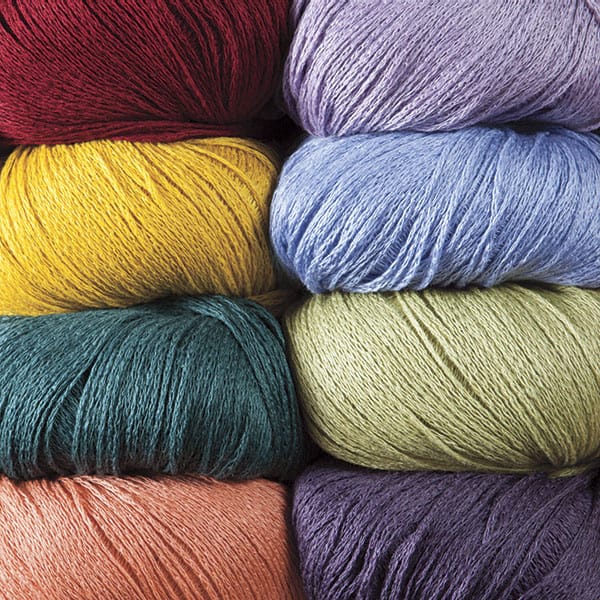 Superbly lightweight and endlessly versatile, Lindy Chain is a chainette yarn that is just the thing for a warm weather version of the Faux Fade Wrap. It's a linen-cotton blend. Available in 20 stunning shades that range from rich hues to soft pastels, this is a good plant-based fiber to try for this project.
This yarn has 180 yards per ball so you will definitely need to pick up an extra ball or two to make the full 1848 yards.
Here's a color palette to try in Lindy Chain:
Deep pink fading to gray and then black is a romantic choice for the Faux Fade Wrap.
Alpaca Cloud Fingering
Finally, Alpaca Cloud Fingering IS an animal-based yarn (100% Superfine Alpaca), but it's non-wool, so if a wool allergy is an issue, this yarn should do the trick. It is super-soft, has a lovely drape, and a nice array of colors to choose from.
Each hank has 200 yards, so pick up an extra hank to make sure you get the full 1848 yards.
This yarn line has a very lovely array of neutrals, so you can go with an understated neutral color palette:
But this yarn line also has a lot of vibrant colors, so you can create a rainbow fade:
I'm a color geek, so I could sit here all day generating potential color palettes for your Faux Fade Wraps!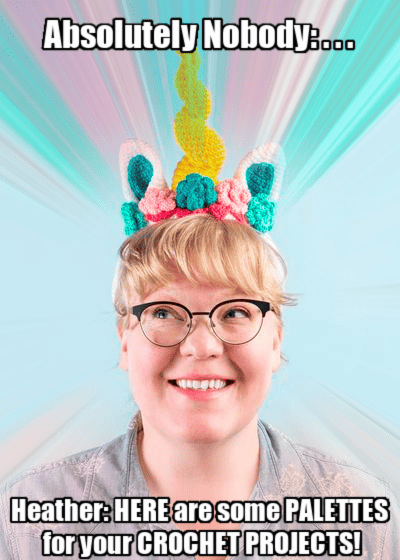 Absolutely Nobody: ….
Heather: HERE are some PALETTES for your CROCHET PROJECTS!
How is YOUR Faux Fade Wrap project going?
Now it's your turn! How is your Faux Fade Wrap project going? What colors did you pick for your project? Are you finding the pattern simple, difficult, relaxing, or stressful? Let me know in the comments, or on social media with the hashtag #WeCrochetCAL.
If you haven't joined yet but you would like to, there's still time. Find out all the details for the CAL in our Faux Fade Wrap CAL Announcement post.