Meet Michelle Moore, the crochet designer behind MJs Off the Hook and SentryBox Designs, who specializes in unique crochet blankets, and stylish garments. Her proudest crochet accomplishment is being featured on the Tyra Banks Fab Life Show talking about how to make thousands of dollars from your hobby, and starting the cocoon blanket trend with her viral shark and mermaid blanket patterns.
We're so excited to talk to you today, Michelle! We can't wait to get to know you better. You caught our attention with all your stylish garment patterns for crochet, and we are super excited that some of your crochet patterns are now available for sale on our site.
Tell us about the inspiration/design process for the Everyday Striped Cardigan: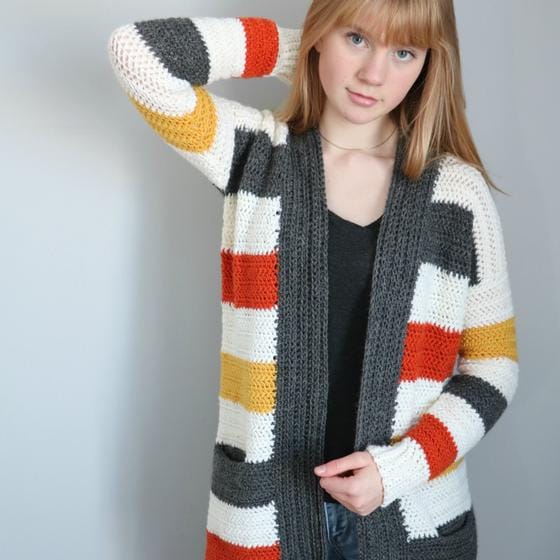 My teen daughter inspired The Everyday Striped Cardigan. She loves wearing stripes, I feel like the majority of her wardrobe is stripes! It was definitely time for me to design a modern and trendy striped cardigan she would love. The colour palette is suited to her young and vibrant style. I believe I captured that with my colour selection.
I wanted to keep the design elements simplistic so most crocheters could make this pattern. The stitch I used throughout is the Herringbone double crochet. I love this stitch because it works up quick and I love the alternating slant of the stitch. I chose I nice long length, ribbing and pockets to get that cozy feel. The pockets are set in so they don't take away from the clean look of the stripes.
Why did you choose the yarn you chose for this design?
When choosing a yarn for a pattern I look at a few key characteristics. For this design colour was a top priority for me. I had specific colours in mind for this design so I needed a yarn with a great range of colour. Next in importance was durability. This is an everyday piece that will be worn and washed often so Wool of the Andes superwash was a perfect fit. This yarn also provided the warmth and drape I wanted but not too heavy for a long cardigan.
What was your first crochet project (and do you have a photo of it)?
I made a bulky flower hat for my youngest daughter. I made it In January of 2013.
When did you fall in love with crochet?
Almost instantly. Definitely after I made my first hat.
What was your first design and how do you feel about it now?
My first published design was the Bulky & Quick Mermaid Blanket. It went viral so I'm pretty happy with it! It's still one of my favourite patterns.
Do you have a favorite crochet technique?
I love the Magic Circle. I always use it when working in the round.
How did you get started sharing your crochet designs?
I started sharing my designs on Facebook. I decided to start a business page when I kept getting asked to sell my creations.
What's your favorite of your crochet designs?
It's really hard to pick a favourite but if I have to pick one it would be my Hooded Owl Blanket. It's definitely my top seller and most loved design. It went viral in Feb of 2017 with over 39M views on Facebook. It's still one of my top selling patterns.
What's been the biggest surprise that came out of starting your crochet site?
I was shocked how many people loved my designs. I was very reluctant to start selling my designs but I was asked so many times for my patterns that I finally took the plunge.
Do you have a favorite crochet stitch?
My favourite stitch is extended single crochet and my next favourite is herringbone double crochet. I just love how simple they are yet interesting.
Current favorite WeCrochet yarn?
I've loved every yarn I've tried so far but I really love Mighty Stitch Worsted. I used it for my Mint to V Pullover and it's just so buttery soft!
What is your favorite thing to crochet?
It's a tie between blankets and cardigans. I really can't pick.
Biggest yarn/crochet-related pet peeve?
I hate when I can't find the centre pull or it comes out in a big tangled mess.
What do you wish you had known when you first started crocheting?
So many things! I wish I knew everything I know now. But for designing I wish I had known about craftyyarncouncil.com I use it every time I design a garment.
What do you hope to design in the future, or where do you want to go with your designs?
I'm really loving designing clothing and teaching through video tutorials. It definitely seems to be stealing more of my attention these days than my blankets. I want to expand on designing more 1-3 piece garments. The majority of my following is new to making clothing and really love and engage when I create simplistic designs that are less intimidating.
I could never completely let go of my blanket designs. There's just something about designing cute stuff that satisfies this inner child in me. I still get excited every time I design a new blanket. I'd also love to come up with some other fun cool idea no one's thought of yet!
How can our readers find you online?
Pattern shops:
Pinterest: https://www.pinterest.ca/mjsoffthehook/
Youtube: https://www.youtube.com/channel/UCwgtd-ETKcv5-08r5POdBrw
Instagram: https://www.instagram.com/mjsoffthehook/
Instagram: https://www.instagram.com/sentryboxdesigns/
Facebook: https://business.facebook.com/MJsOffTheHookDesigns/
Facebook: https://www.facebook.com/sentryboxdesigns/
Thank you for joining us today, Michelle! It was great to get to know more about you!