Hi friends! My name is Liz and I'm very happy to be a part of the WeCrochet team as the new book designer! I'll be working to put together crochet books that contain very fun and cute patterns for you to make and enjoy!
I absolutely adore crafting and making whatever my heart desires. I primarily do punch needle art and machine tufting to make rugs. As I continue tufting, my yarn stash continues to get bigger and out of control so I recently took up knitting and crocheting to use up all the yarn I have.
However, as much as I try to not bring home more yarn it somehow keeps finding its way into my home. I'm really excited about this new crafting journey I'm on though and
am looking forward to making myself cardigans because that's all I wear and even some hats for my cats!!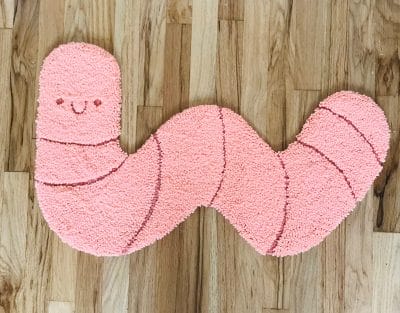 When I'm not doing textile art, I spend the majority of my time illustrating! I also enjoy making cute things out of clay, sewing plushies and embroidering. I have two cats, Zeke and Mabel, who are the sweetest little things you'll ever meet, but that doesn't stop them from stealing my yarn! I try not to spend all of my time crafting so outside of art you could probably find me re-watching tv shows I love or playing video games.
I'm so excited to join the WeCrochet family and to learn lots more about crocheting and knitting! I hope you all like the books I make for you too and enjoy making the patterns inside!