The days may be getting longer as we head toward spring, but today is a great day to bring extra light into your life with some joyful crochet patterns to start right away!
Happy Crochet Patterns: Wall Hangings
Create a stylish boho wall hanging with this Rainbow Wall Hanging featuring an eye-catching 70s-inspired color palette and perfect fringe.
Or maybe a cross-stitched butterfly banner is more your style? This pattern combines simple crochet techniques with cross stitching to create a unique piece of home décor.
And now I'm tooting my own horn, but I do love the first crochet pattern I've ever written: The Tuff Puff Rainbow Wall Hanging. Although this version features a classic rainbow, you can customize and choose your own favorite color palette. Check the various versions on Ravelry to get some color inspiration!
You might also enjoy: Free Crochet Patterns from WeCrochet
Joyful Crochet Animal Accessories
I can't think of anything more joyful than crocheted accessories with an animal theme! Here are some animal-themed crochet patterns that also happen to be useful and wearable accessories.
These crochet animal ear headbands are quick, easy and incredibly adorable. A pair can be made in less than 30 minutes and when made with Fable Fur, they are irresistibly soft and realistic looking.
What could be more fun than a super cute, super warm, bunny ears hat crocheted in Fable Fur? And it will keep your head warm.
You might also enjoy: What to Crochet with Faux Fur Yarn?
Why wear a regular hat when you could wear a whale beret instead? The hat even includes a cute little tail on the back.
Make an adorable sloth phone pouch with this crochet pattern! Perfect for wearing out and about OR at home, when wearing pants with lousy pockets, or no pockets at all. This pouch will fit cell phones up to 3.5 inches wide and 6 inches tall, which is almost all phones on the market!
Check out: all our other sloth crochet patterns too!
Or perhaps what you really need to bring joy to your wardrobe is an octopus scarf! This is a very simple scarf using only dc and hdc stitches, but wow, what an impact!
Joyful Toys to Crochet
And finally, toys to crochet that will add joy to your life. Toys are inherently joyful, but a handmade toy just has that extra love in it that makes it super special. Check out these amigurumi crochet patterns:
Flikka Flamingo is an adorable baby flamingo that just begs to be cuddled. Simple stitches and shaping, paired with super bulky Fable Fur yarn make this a quick project! (This is probably the most fantastic use of pink Fable Fur we've ever seen!)
You might also enjoy: WeCrochet Podcast #23: Advice and Amigurumi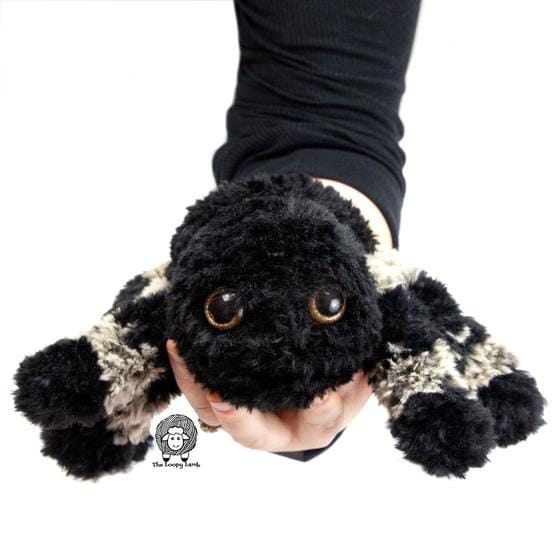 Taran Tarantula is a sweet and cuddly tarantula that is a big hit with children, being the perfect size to sit on their head, shoulder or even to startle an unsuspecting friend.
It's just so hard to choose between mermaids and kittens, but now you don't have to! This super-cuddly catfish purr-maid is practically begging you to hug her, but be careful—once you start, you won't be able to stop.
These are just a few of the fun crochet patterns we offer on Crochet.com, and we hope you've been inspired to start your next joyful crochet project! Let us know what you think (or if you've found some other especially joyful patterns you'd like to share) in the comments!