WeCrochet sat down with Dora Ohrenstein, author of Crochet Every Way Stitch Dictionary, who walked us through the process of creating this new classic guide.
About the book: Crochet Every Way Stitch Dictionary
This hefty collection, ranging from lace and filigree to shells and textured stitches, is loaded with beautifully photographed swatches of each pattern, plus charted and text instructions. A focus on the ins and outs of shaping makes working stitch patterns far more accessible and allows the creative crocheter to make many items without a pattern. Crochet Every Way Stitch Dictionary will become an invaluable go-to resource that's sure to inspire legions of crocheters to use stitch patterns in new and exciting ways.
About the Author: Dora Ohrenstein
Dora Ohrenstein is a leading crochet designer, known especially for her stylish garments, and the author of 7 crochet books, including her latest book Crochet Every Way Stitch Dictionary. Visit her at her website crochetinsider.com.
And now, the interview!
How is this book different from other stitch dictionaries?
It's the ONLY stitch dictionary that includes three ways of shaping for each stitch (well, some complex stitches have 2 ways of shaping).
What inspired you to create this book?
Because it has never been done before and I knew crocheters would benefit from having the information that is in this book. The book really reflects my interest in stitch patterns—my love for a particular stitch pattern is often the starting point for a design. Having been designing now for more than a dozen years, I have figured out a few things about shaping stitches that I wanted to share.
The book includes shaping at the edges of the work and also internal shaping. The continued popularity of top-down seamless sweaters is why I included internal shaping.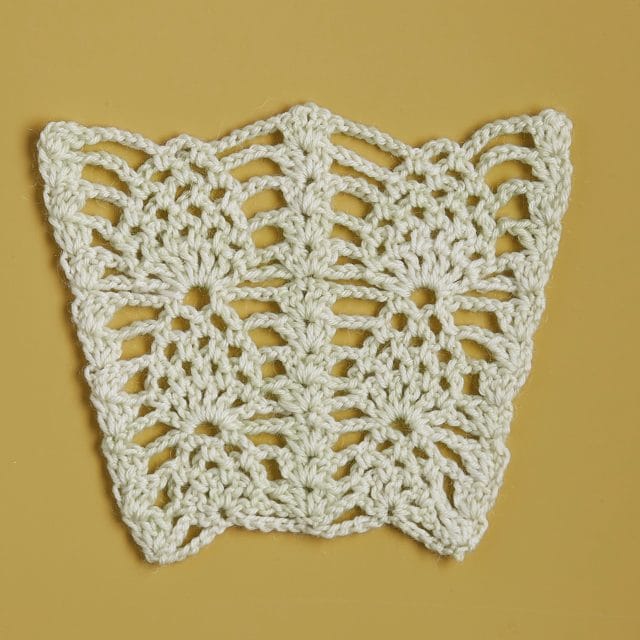 How do you envision this book being used by crocheters?
They can 1) use it as the basis for designing, 2) learn many new stitches, 3) gain knowledge of how shaping in pattern works, and 4) adapt existing patterns.
Can you describe the process of creating this book?
One large issue was how to present the information on shaping within a stitch dictionary. It was important to devise a way of showing increasing, decreasing, and internal shaping in a concise, clear way while also giving instructions for the stitch itself. I came up with the idea of a swatch that starts even and then grows into these pointed shapes. It's an attractive shape and makes it easy to see what's going on, both in the swatch and the diagram. The little internal shaping swatches were devised to show a center increase.
The swatches took 2 years to make. For most of the stitches I first drew stitch symbols on paper to develop my shaping ideas. Then I tried out the idea with yarn and made many adjustments as I did so. Then I redid the swatch in the yarn that suited it most, very carefully, so that the work was as even and pretty as I could make it. I wet blocked and pinned each swatch, sometimes more than once.
What's your favorite stitch in the book and why?
Why would I ever choose one stitch over another? I love them all!
Anything else you would like to share?
There is lots of additional info on each stitch, including its multiple, how many stitches and rows it requires, and whether it is reversible. Each stitch has full instructions and a chart, and there are charts for all increasing and decreasing as well. So, if you want an in-depth education on a great variety of stitches, from solid to textured to lace to ripples, it's all in this book. 
Thank you for talking with us!
About this Article & 40% Off Crochet Books!
This article was originally printed in Issue 1 of WeCrochet Magazine.
You can buy the magazine, Crochet Every Way Stitch Dictionary, as well as Dora's other book Top Down Crochet Sweaters for 40% off in this month's book sale! (Book sale expires 2/11/20 at 11:59pm).