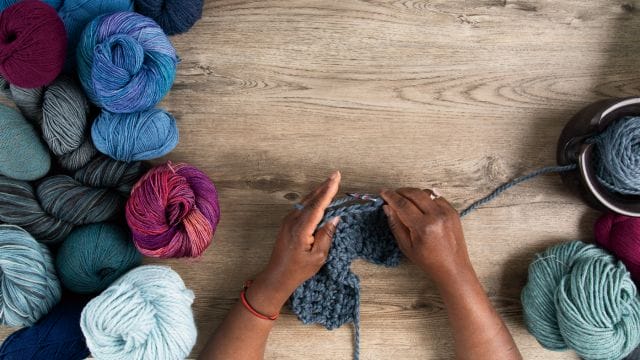 Learn to make money by teaching crochet! We continue our Crochet Jobs Series with a look at teaching crochet for fun or profit. Find out how to gain skills, confidence, and even certifications that will help you land gigs teaching crochet in your community and beyond.
Education is an important part of any field and crafting is no exception. While some people can just figure out how to crochet (like guest Arica Presinal), others need a little help and guidance. Thankfully there are organizations like the Craft Yarn Council and the Crochet Guild of America that are here to help on the journey to be learn more about craft and become a crochet instructor.
So far in our Crochet Jobs series, the WeCrochet Podcast team has explored crochet designing and crochet testing. Today on the WeCrochet Podcast we learn about how to make money teaching crochet in a variety of different places, like at conferences and libraries, and situations, like teaching online Zoom classes. 
First up, Heather talks to Arica Presinal about the Craft Yarn Council's Certified Instructor Program. Arica talks about her experience as a crochet designer and as a crochet educator, and how she gained confidence from the CYC's CIP. 
Later Katelyn chats with Pia Thadani from the Crochet Guild of America. Learn more about Pia's journey to making an income with crochet, why you might want to become a member of the Crochet Guild and what the benefits are. Pia also shares her wisdom about the do's and don't's of teaching a pattern.
Listen, rate, review and share this podcast on Apple Podcasts, Spotify or wherever you get podcasts!
Mentioned in This Episode:
Crochet Jobs Part 1 Designing
Crochet Jobs Part 2 Crochet Testing
The Crochet Guild of America (CGOA) 
The Craft Yarn Council (CYC) 
SkeinsNSticks Designs (Arica's website)
Certified Instructor Program (CIP)
CGOA Conference 
Summer Sale
StitchesNScraps (Pia's website)
Join the CGOA 
CGOA Online Education Program 
Timestamps:
0:00 Heather and Katelyn
6:45 Heather talks to Arica
19:21 Summer Sale!
20:21 Katelyn talks to Pia
39:30 Credits
The transcript for this episode can be found here: