WeCrochet is home to so many great free home decor crochet patterns, including our newest patterns in the Comforts of Home collection. We recently shared a few of those new crochet patterns from our Fall issue of WeCrochet Magazine, but today I want to highlight some of my favorite beautiful AND free home dec crochet patterns available at crochet.com!
9 Free Home Decor Crochet Patterns
1. The Barrington Pillow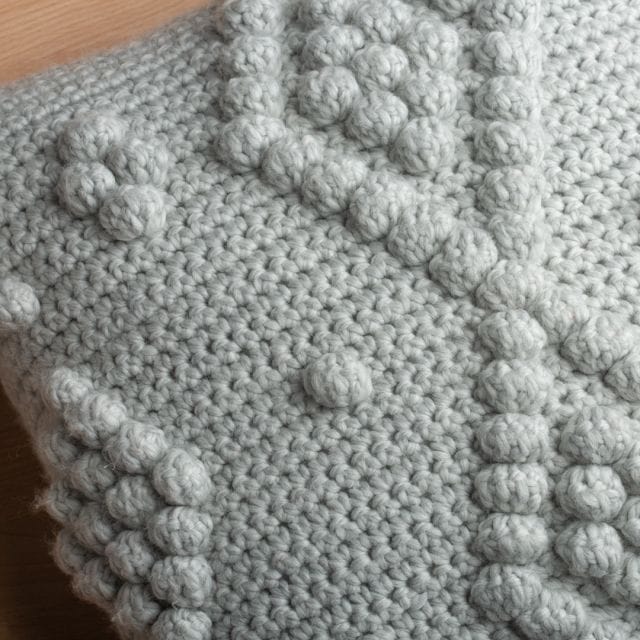 The Barrington Pillow is a pretty crochet pillow with a geometric bobble stitch pattern. We've seen a few people complete and post about it on social media already! Leah Gordon designed this pattern (@iplaywithfiber on Instagram). The photo below of an adorable doggie enjoying its new pillow is courtesy of @maddiey.
2. The Linwood Place Blanket
We were still working in the office (and not from home) when the Linwood Blanket sample showed up, and I remember how much we all loved it — this blanket is uniquely stunning in person. A twist on a motif-style blanket, it's made in a super squishy yarn: Simply Cotton Organic (nothing but cotton!). This would be a stunning heirloom quality quilt to make for a beloved friend or family member.
Rachel Beth designed this blanket (@rbscrochet on Instagram). She made her own colorful version of the blanket:
3. The Ashmont Aran Afghan
The Ashmont Aran Afghan is similarly stunning, but instead uses a combination of textured stitches to create an extremely lovely final blanket. I highly recommend you download this free pattern and try it out if you are an intermediate crocheter.
So far, nobody on Ravelry has tried making this pattern yet… will you be the first?
Now let's talk about some other free home decor crochet patterns from some of our previous collections!
4. The Hexie Bee Throw
The Hexie Bee Throw was one of the first patterns we released, from our Fall 2019 Modern Brights collection. It's so happy and fun, yet still has a modern edge that keeps it from being too kitschy. This fun design is by designer Dawn Curran (on Instagram as @thealmondsnug).
We think this project is a great one for taking along in the car with you. Those tapestry crochet bee motifs are small enough to be quick and fun to complete.
5. The Sliding Doors Pillow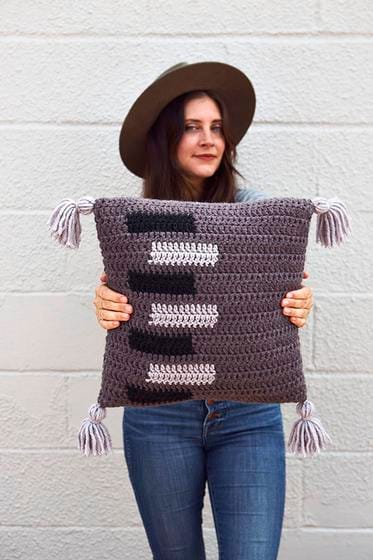 The Sliding Doors Pillow is a free pattern written by designer Alexandra Tavel of Two of Wands. She designed it to go with her brand new yarn line Hue + Me (which we are very excited to carry on crochet.com!)
Dueling steps of color accent a simple background to create this graphic decorative pillowcase. The beginner-friendly pattern utilizes easy color changes and basic stitches for a modern look and quick project. Interested in this yarn? Alexandra has several free crochet patterns for garment and accessories designed for use with Hue + Me, in addition to her free home decor crochet patterns.
6. Tunisian Monstera Blanket and Pillow
We even have free home decor patterns that are perfect if you prefer Tunisian crochet (or if you'd like to give it a try). One of my favorite patterns from the Viridescent collection is the Tunisian Monstera Blanket & Pillow pattern by Miroslava Mihalkova (@exquisite_crochetuk on Instagram).
7. Geo Potted Plant Covers
Because I've become something of a Plant Mom, I love these little Geo Potted Plant Covers, which are designed to go over plant pots you already have. This is such a great way to cover those plastic pots that plants come in and dress up your plants in colors that work with your home decor. This design is by Kate Alinari (@katealinari on Instagram).
Related: Hear Heather's funny plant story on a recent episode of the WeCrochet Podcast.
8. Urban Garden Throw
The Urban Garden Throw is one of our favorite blankets to make when playing with color. The fun part is that this pattern works well with Brava Mini Packs: 24 curated colors are available in a mini-pack. Just choose your background color in Brava Worsted and pair it with your favorite Brava Mini Pack for easy color play. Maria O'Keefe designed this pattern– see below for her version, using a very different color story (and those adorable pom-poms on the hem!).
9. Corner-to-Corner Afghan
Finally, we had to include the Corner-to-Corner Afghan designed by our own fearless leader, Sara Dudek. This pattern provides an introduction to C2C, and is therefore a great pattern to start with if you want to learn this technique. It's inspired by classic quilt designs, but has a modern edge that would look great in so many different styles of home decor. What colors would you choose?
Follow Sara's crochet adventures on Instagram: @saradudekstitches.
It was hard to limit our home dec pattern list to only nine. What did you think? Did you see any patterns you'd like to try to make for your own home? Let me know in the comments!