If you're longing for connection to community right now, join us! WeCrochet and Knit Picks have partnered with Warm Up America to create afghan and blanket projects to go to seniors and others in need in our communities. If you're home and looking for something to do, let's share the love and #WarmUpTogether!
Warm Up America accepts knit and crochet projects and squares made in machine washable yarns. If you would like a full list of washable yarns we offer, scroll to the bottom of this post. Here are the ways you can help . . .
Make a Square to Donate
Warm Up America needs 7×9″ squares in knit or crochet. This is the perfect little project if you have a small amount of yarn at home and need to use it up or if you're looking for a small craft project to keep the kids engaged. Ship your squares to Warm Up America and they will facilitate getting it to a volunteer who will seam into a blanket for a person in need. Here are 3 free patterns you can use to create your squares (just remember these patterns might need to be slightly altered to reach the required 7×9″ dimensions).
1. Hipacious Houndstooth Dishcloth
This fun dishcloth pattern uses two colors of Dishie yarn, a worsted weight cotton and will work with any worsted weight yarn you have on hand. It's finished size is 7″ square; simply continue the rows until the square measures 9″ long and is suitable for donation.
2. Fruity Loops Dishcloth
The Fruity Loop Dishcloth uses 7 colors of Dishie or any worsted weight yarn, making it perfect for any yarn leftovers around the house. The finished dimensions listed in the pattern are 5.5″ square. To adjust for Warm Up America, begin with a ch. 27, and repeat the rows until you reach 9″.
3. A Chance of Rain Dishcloth
The Chance of Rain Dishcloth uses Dishie yarn, but any worsted weight yarn will work. The finished dimensions for this cloth are 9″ square. To make this project fit the requirements for Warm Up America, reduce the number of starting chains to 27.
Make an Afghan to Donate
Warm Up America also accepts completed blankets and afghans in most sizes. If you want to launch into a larger project, consider creating from one of these free patterns and donating to Warm Up America!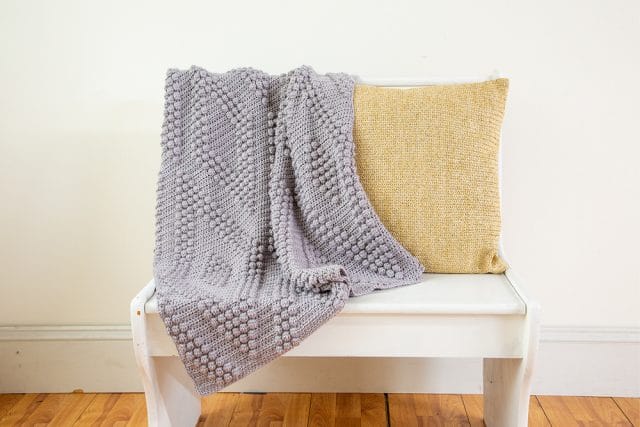 Learn to Crochet
If you're hoping to learn to crochet, or want to teach your kids to crochet, follow along with all of our learning content. Beginners will love learning these basic stitches. We also have video tutorials to help you get started. The WeCrochet team will work to get more content added to our learning center over the coming weeks so you can work toward making your first project or expanding your crochet knowledge. Reach out with any questions, we're here to help!
Donate Here:
While Warm Up America has paused accepting samples while their offices are closed, we're working on our stacks of knit and crochet blocks so we're ready to send a lovely package when they're open!
Send finished projects or squares to:
Warm Up America
3740 N Josey Ln Suite #152
Carrollton, TX 75007
Learn more about the organization here:
More to Make
If you're looking for more patterns geared toward making a difference, be sure to check out all of the free patterns available for download from our book Helping Hands: Made with Love, Given with Heart by Stacey Winklepleck.
Suggested Yarns
All projects donated to Warm Up America should be machine-washable. Most donations are in a medium/worsted weight, but any weight yarn will work. We suggest sticking to acrylic, easy-care cottons, and superwash wools. If you're familiar with WeCrochet and Knit Picks yarns, here are a few we recommend:
Brava
Chroma
Comfy
CotLin
Dishie
Mighty Stitch
Shine
Stroll
Swish
Wool of the Andes Superwash