We're featuring a new free pattern every Tuesday for 12 weeks. This week's free crochet pattern is the Bobble Clutch Bag.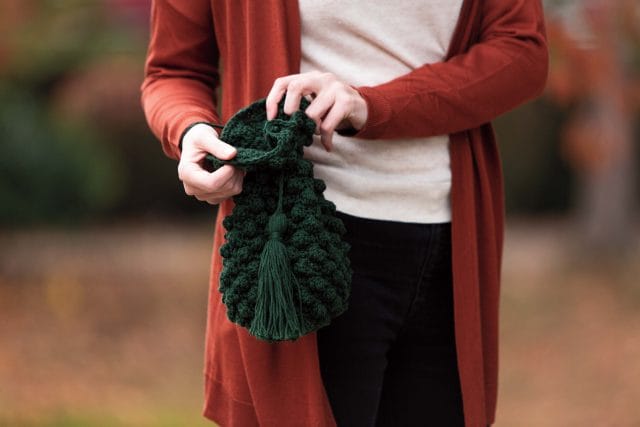 It's the gifting season, and we at WeCrochet are celebrating by releasing a free pattern every week for the 12 weeks leading up to mid-December. Each week we'll release a pattern that you should be able to finish in time for gift-giving. This week we're sharing the Bobble Clutch Bag designed by Helen Anderson in CotLin!
The Bobble Clutch Bag is a great opportunity to use cotton/linen yarns in the wintertime! Cotton and linen (our CotLin yarn) are traditionally considered a summertime fiber because of their breathability, but they also provide a lot of structure when working bags or other projects that need to maintain shape and texture. The Bobble Clutch Bag features that intricate texture with the use of the bobble stitch.
You'll have so much fun making this project for loved-ones this holiday season. The bag features a stylish tassel and classy drawstring so you can easily carry the bag around your wrist for holiday parties, family gettogethers, and it might even fit a small crochet project so you're never left without your favorite WIP (work in progress)!
12 Weeks of Gifting—Week 11:
Bobble Clutch Bag
We're already at Week 11 of the 12 Weeks of Gifting! (Where has the time gone!?) Be sure to order your CotLin for the Bobble Clutch Bag today so you'll have time to complete the projects before any big gift exchanges. We'll release one more small pattern next week for all the gifting procrastinators out there (like me).
Be sure to look back on our previous 12 Weeks of Gifting pattern releases for some fun projects you'll enjoy making through the summer months (even if you don't have time to finish and give as a gift this year). Find fun afghan patterns in lively colors, larger market bags, cute cowls with matching mitts, and stylish headbands. Keep following along with the 12 Weeks of Gifting as we wrap up the year!
Previous 12 Weeks of Gifting Free Crochet Patterns:
Hue Shift Afghan

Fireside Afghan & Pillow

Tuff Granny Throw

Anfora Blanket

Urban Garden Throw

Placid Shawl

Mountain Meadows Cowl and Mitts

Two-Color Cable Cowl

Polka Dot Ear Warmer

Bobble Clutch Bag
Week 1: Hue Shift Afghan
Week 2: Fireside Afghan & Pillow
Week 3: Tuff Granny Throw
Week 4: Anfora Blanket
Week 5: Urban Garden Throw
Week 6: Placid Shawl
Week 7: Winter Diamonds Market Bag
Week 8: Mountain Meadows Cowl and Mitts
Week 9: Two-Color Cable Cowl
Week 10: Polka Dot Ear Warmer