Have you ever seen a pattern that just won't leave you alone? It begs you to make it, morning, noon, and night? That recently happened to me when we reviewed pages the pages of WeCrochet Magazine, Issue 3. After seeing Natasha Robarge's Light Touch Pullover, I couldn't get it off my mind. So, naturally, when I saw that it's was the choice project for our latest CAL, I jumped at the chance to work the project along with all of you.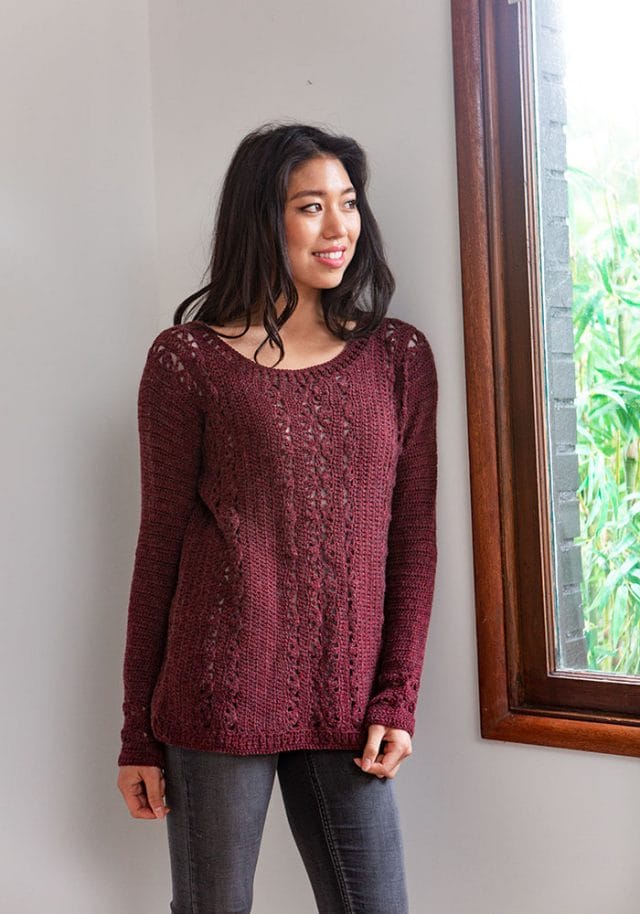 In the mag, our Brand Director Sara Dudek recommends three possible yarns for this sweater. Here I'll explore those three options and share their properties to help you choose the yarn that will work best for your needs. I'll also share some interesting things I learned through the process. At the end, I'll reveal what yarn I decided to use for my project.
Each of the swatches shown were worked following the swatch pattern provided in the pattern itself, which consists of 23 alternating rows of Single Crochet and Double Crochet. I used a U.S. size G/6 (4.25 mm) hook.
Capretta Superwash
The first yarn I swatched for this project is the one that was recommended in the pattern. Capretta Superwash is a deliciously luxurious yarn. It's a blend of fine, superwash Merino wool, Cashmere, and nylon. This yarn is so soft and blooms beautifully when blocked. (Note, "blooming" is when a fiber plumps and sort of fills out when blocked.) It also developed a lovely halo the surface of the fabric that's pretty dreamy. It reminds me of mohair and I really love it.
This yarn is a great choice if you want to create a sweater that's as easy to wear to the office as it is a special occasion. It's sure to become a wardrobe staple that will last for years to come.
Stroll
Working up this swatch was the first time I had the pleasure of working with Stroll. It comes in at a mid-level price point and it's a blend of fine, superwash Merino wool and nylon. As you hold this yarn in your hand, you wouldn't know it doesn't contain the cashmere that Capretta has. It's just as soft. As I worked with it, it felt like I was crocheting with feathers. It's incredibly light without being too delicate. It didn't bloom when blocked, instead it retained its sharp stitch definition and the drape is just amazing.
This yarn has quickly become a personal favorite. It's a great choice if you're looking for a sweater that will layer beautifully and works well as a transitional piece of clothing. With its airy quality it will wear just as well over a camisole in August as it will over a blouse when the weather cools in October.
Palette
Palette is the best yarn when you're looking for something affordable, that comes in about a million colors, and is 100% wool. It is more rustic in feel than the other two yarns, but not the least bit itchy. It has a bit of tooth, meaning you can feel it grab and want to connect with the fiber around it. That means you're going to be careful how you wash it! This would easily felt, so be sure to block your FO in cool water and lay flat to dry.
A sweater in this yarn is a must if you're looking for a workhorse garment. It won't feel precious in the sense that you'll want to save it just for special occasions. You'll want to wear it for all occasions, whether you need a warm layer when hiking or something to stay off the chill when working in the garden.
Tips for Getting Gauge
The biggest tip I was reminded off when working these swatches is to check your gauge after blocking! It's the most important step in the process of crocheting a garment if you want it to fit your body. Don't assume anything when it comes to swatching, yarn choice, hook size, and gauge.
Before blocking, all my swatches got gauge. After blocking, they did not. All three of my swatches grew in size. Which means I crochet more loosely and I need to use a smaller hook. If my swatch was too small, I would need to use a larger hook. Does that mean I need to make another swatch? Yep, it does. If I want my sweater to turn out the size listed in the pattern schematic, I need to get gauge!
The Big Reveal: The yarn I'm using is…
There is so much to love about each of these yarns, but if I said it was hard to choose which one to use, I'd be lying. I knew the moment I stitched the first DC that Stroll would be the yarn for my Light Touch Pullover. I'd love to hear what yarn you decide to use for yours! Be sure to share in the comments below and tag your posts on social media #lighttouchCAL.
Join me next time when I'll share what color Stroll I decided to use (and why!), what hook finally got gauge, and how the first stages of the pattern are going.