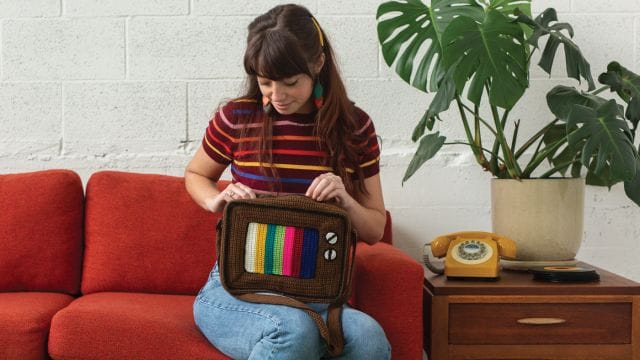 In this episode of the WeCrochet Podcast, we're talking about all things TV plus crochet! In this golden age of on-demand content, TV and crochet go together like Laverne and Shirley (or Abbi and Ilana of Broad City).
First Sara, Katelyn, and Heather chat about what they've been watching while they crochet. Between true crime, comedies, or even documentaries, there's a great TV show to suit any crocheter.
Next, Heather and Katelyn talk about the patterns of Issue 6 of WeCrochet Magazine. The Retro Reverb collection features vintage tech-inspired motifs like mixtapes, records, and TVs, while the Mindful Makes collection is all about neutral colors and calming stitches.
Finally, Producer Sarah joins Heather to nerd out about famous crocheters, theories about crochet on TV (*Back to the Future, 1985, spoilers included*), the most famous afghans in pop culture, and the origins of Fuller House character Kimmy Gibler's funky crocheted scarves. Get cozy on your favorite lounging chair to go through decades of crochet in TV shows and find out where you can find crochet in your favorite shows.
Listen, rate, review and share this podcast on Apple Podcasts, Spotify or wherever you get podcasts!
Mentioned in This Episode:
Harmonious Pullover by Natalia McHayle
Galileo  
WeCrochet Magazine Issue 6 
Stroll Gradient 
Riviera Tee by Sincerely, Pam  
Crest of the Waves Cowl by Jo Kirby
Retro Reverb collection  
Mindful Makes Collection  
Episode 33 
Gauge tool  
Episode 18
Boom Box Belt Bag & Mix Tape Wallet by Heather Mann  
Curio #3  
Bop Shop Earrings by Ashley Zhong  
Record Blanket by Dawn Curran
Rhythm Tote by Kathleen Berlew  
Wisdom Book Bag by Moon Elderidge
Other celebrities that crochet 
Why do all TV shows have the same blanket (granny square) 
Bacon & Egg Scarf by Twinkie Chan
Cupcake Scarf (Kellyz Creations)
Cactus Scarf (designed by HelloHappy & made by @sewcraftycrochet  
Pattern on WeCrochet  
Mary Kate Killilea, costume designer"I spotted Crochet on TV thread" on Crochet Liberation Front Headquarters group on Ravelry:  
Timestamps:
0:00 Welcome to the WeCrochet Podcast
0:14 Heather, Sara, and Katelyn
7:53 Katelyn and Heather
27:05 Brava Speckled 
28:20 TV Crochet Talk
54:45 Credits